Community
Out and About: It's never been easier to get your CPR number!
---
This article is more than 8 years old.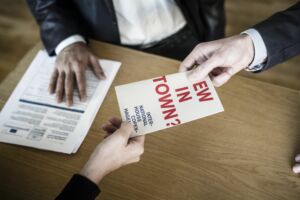 It wasn't long ago that getting a CPR number, particularly in connection with getting a job, was the ultimate logistical nightmare for those new in town in the Danish capital.
But how easy has it become to sort out your paperwork since the welcoming International House Copenhagen opened in June 2013?
(Photos by International House CPH)

International House understands how official registration in a foreign country can often seem like navigating a jungle of information as a newcomer and has accordingly launched a new feature on its website, ihcph.dk, which guides international Copenhageners on how to apply for a CPR number in an easy and simple manner.
Chris from Poland (second right) tried it out on a recent visit and found that the new online tool is a user-friendly and highly uncomplicated decision tree that eliminates all insignificant information for the user in question, ending up presenting only relevant and useful data that is easy to grasp.
"It is clear and easy to use – and you don't miss the information because it's on the front page of the website," he said.