Film
Film review: 'Bridge of Spies'
---
This article is more than 8 years old.
Another slush ice from the cinema's bridge-burner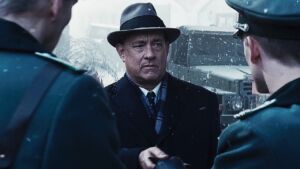 The credit 'A film by Steven Spielberg' has for several decades now carried with it a fairly unique promise.
While recent years have seen him shift further towards politically-motivated material, it is a guarantee that what you are about to watch will subscribe to a certain standard.
And it is also a guarantee, for the majority of the audience that they will be both moved and entertained; that you can buy a cinema ticket with the assurance that the film will be, if not always the kind of high art produced by the masters he aspires to, expertly crafted entertainment from which you will emerge with a warm feeling in your stomach.
Eye spy with the Coens
For Bridge of Spies, Spielberg (who shared writing duties with the Coen brothers) indulges his penchant for true events while trying his hand at the Cold War thriller. With escalated tensions between the old superpowers of late, it's hard not to imagine a degree of shrewdness went into selecting the source material.
Spielberg regular Tom Hanks plays James Donavan, a lawyer-turned-insurance salesman who is coerced into defending, at that time, the most hated man in America: Rudolph Abel (Rylance), a softly-spoken Soviet spy from the north of England.
While the intention was to give the outward appearance of a fair American trial, even for one so reviled, Donavan takes his mandate more seriously than many would like – not least his family or the judge hearing the case.
Meanwhile elsewhere, we watch the selection process for a secret CIA task force – a group of young pilots charged with flying surveillance planes at high altitudes over Soviet territory.
Before long, one of these planes is downed and the Russians have some leverage with a captured spy of their own. Donavan is then sent behind the newly constructed Berlin Wall to negotiate an exchange.
Oscar bid on solid ground
Rylance, long celebrated for his work in theatre, excels in his role as the Soviet spy. There's every chance his gentle, understated intensity will earn him a gong for best sup-porting actor.
The film lights up whenever Hanks and Rylance share the screen. A shame, then, that once the narrative shifts to Berlin, we are deprived of their chemistry.
Needs more River Kwai whys
There's an exciting early scene in which Donavan tries to evade a CIA operative in the rain, but what at first teases us, with the sensibility of a spy film in the classic tradition, soon gives way to a courtroom drama-cum-political thriller that never reprises this earlier excitement. This isn't helped by a surprising dearth of tangible danger, despite the heightened predicament, to either Donavan or Abel's lives.
'A film by Steven Spielberg' apparently also signals that the material will be morally predictable and, at worst, sentimental, sometimes to the point of patronisation. Nevertheless, you will be in 'safe' hands – and that's just it, the film is a cosy blanket but lacks bite.
Janusz Kaminski's photography is gorgeous as always, and Spielberg's direction is assured and the period details are exquisite. It slips down the gullet like warm chocolate and, to its credit, is kinetic enough that you barely notice the time passing. However, the film fails to be memorable because it leaves you with so little to think about – Spielberg has done all the work for you and wrapped it up in a sappy ending, as he is wont to.