InOut
Art in December: Treasure in the Diamond
---
This article is more than 8 years old.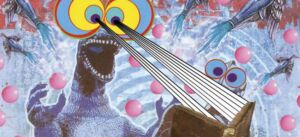 ongoing, ends Dec 31, open daily 10:00-19:00; Black Diamond, Søren Kierkegaards Plads 1, Cph K; free adm; kb.dk
The Royal Library, dubbed the 'Black Diamond' due to its stunning architecture, has delved into its archives, dusted off its most valuable possessions, and placed them in the hands of Russian artist Andrey Bartenev.
The result, Treasures in The Royal Library, is its first permanent exhibition in recent times, and December is the last opportunity to admire it.
It provides as exclusive look at the library's extensive collection that goes back to the 7th century.
Among its many treasures are Gutenberg's Bible, the notes of philosopher Søren Kierkegaard and the diaries of Hans Christian Andersen.
One of the world's most celebrated experimental artists, Andrey Barteney, has taken the library's collection and turned it into a work of art.
Known for his interdisciplinary approach, he has been quoted as saying that art for him is a single current. He has brought this philosophy into his design, immersing the library's pieces into a "pop art jungle" with a view to drawing parallels between the historical artefacts on display and today's fast-paced information age.
The exhibition will also undergo changes from time to time, with new items being pulled out for display. Visitors will have plenty of reasons to return again and again – the library has an almost inexhaustible collection of artefacts.
Bridging the past and the present, it's definitely worth checking out. (SR)
---
Space and spaciousness
ongoing, open Tue-Fri 13:00-16:00, Sat & Sun 12:00-17:00; Danish Jewish Museum, Købmagergade 5, 3, Cph K; 50kr; jewmus.dk
This is an exhibition that charts the lives of Denmark's Jews through their 400 years in this country.
Inspired by Daniel Libeskind's architecture, it explores the concepts of cultural space and spaciousness. It is organised in three rooms, with the first representing spatiality, the second Danishness and the third Jewishness.
Learn more about the complex negotiations of cultural space in the community, where creativity, debate, identity crises and ambition have always taken centre-stage. (SR)
---
A birthday present for the queen
ongoing, ends Feb 28; open Tue-Sun 10:00-17:00, Wed 10:00-20:00; Statens Museum for Kunst, Sølvgade 48-50, Cph K; free adm
If watching artists at work has always mesmerised you, you need to make your way to this open studio.
Watch as skilful conservators wield scalpels and pigments to restore a painting from the queen's personal collection.
Johann Solomon's large-scale 1741 painting 'The Royal Table of Charles VI, Holy Roman Emperor' has adorned the walls of Fredensborg Palace since 1872.
The painting has seen fires and deterioration and is badly in need of restoration. It will receive some much needed TLC at the museum. (SR)
---
Essence of retro-cool
ongoing, ends Jan 17, open Tue-Sun, 10:00-21:00; Arken, Skovvej 100, Ishøj; 95kr; arken.dk
Evoking the "essence of retro-cool", the Danish artist and designer Bjørn Wiinblad's colourful flourishes and luxurious forms are some of Danish design's most recognised and celebrated artworks – a definite must-see. (SR)
---
A look beyond the walls
open daily until 3 Jan from 11:00-16:00; Amalienborg, Christian VIII's Palæ,Cph K; 90kr
Visit Amalienborg Palace and immerse yourself in Pia Schutzmann's artworks featuring "hidden stories and the many layers of life in the old royal palaces" to gain a closer look at the lives of Danish royals. (SR)
---
Shades of Amber
ongoing, open all Dec, 10:00-17:00; House of Amber, Kongens Nytorv 2, Cph K; 25kr
Amber jewellery and Danish design are a match made in heaven.
Browse the jewellery on display, or look through a magnifying glass at the plants and insects preserved in the material – the museum has a collection of over 300 pieces. (SR)
---
Japan's apprentice
ongoing, open Dec & Jan, open Tue-Sun 11:00-17:00, Wed 11:00-21:00; Designmuseum Danmark, Bredgade 68, Cph K; 100kr
The museum, on its 125th anniversary, will pay homage to Japan's influence on Danish art and industrial design.
The exhibition will present both Japanese pieces and the Danish designs they have influenced. (SR)
---
Steve McCurry
ongoing, ends Dec 31, 10:00-15:00; Frederiksborg Slot, Hillerød; 75kr; dnm.dk
Combine a trip to the majestic Frederiksborg Palace with this exhibition.
The world-famous documentary photographer has visited many of the world's hotspots over the last 30 years, capturing the human spirit through his lens. (PS)
---