News
Zealand takes delivery of Europe's most modern ambulances
---
This article is more than 8 years old.
Each costs 1.2 million kroner before tax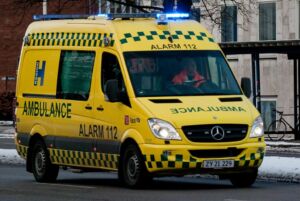 Region Zealand in Denmark received 45 top-of-the-range new ambulances today, reports DR.
The Falck ambulances are equipped with chest compression devices, and cost 1.2 million kroner before tax each.
Saving patients with cardiac arrest
"We are the first region to use chest compression machines in ambulances," Benny Jørgensen, the head of emergency medical services in Zealand, told DR.
"They will increase survival rates of patients with cardiac arrest."
The ambulances are also equipped with electrically-operated stretchers and steps for moving patients into and out of the ambulance. They take the strain off emergency services personnel who previously had to lift patients without mechanical assistance.
Blue lights flashing all over the world
Falck has the world's largest international ambulance fleet, operating over 2300 vehicles in 19 countries.
In Denmark, Falck fulfils 85 percent of ambulance services and 65 percent of fire services.
The company bought its first ambulance in 1907 and today is the world's leading provider of emergency medical services, with business interests in 45 countries.