Community
Proud of the Philippines: photos, promotions and pizzazz
---
This article is more than 8 years old.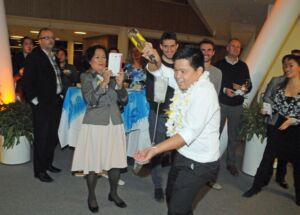 Photos by Hasse Ferrold
If you thought Christmas was overly long in Denmark, then think again. In the Philippines, it's a Guinness world record beater, as it actually starts on September 1. That fact alone ought to entice the festive-mad Danes into visiting its 7,100-plus islands, but just in case there were a few undecideds left, the Department of Tourism Philippines held a promotional event at Aller Media House in Copenhaegn on November 12 where there was all manner of fun: presentations, nibbles, cocktails, entertainers and even photo booths so the guest could take a souvenir home. The night perfectly encapsulated what I truly miss about my home country.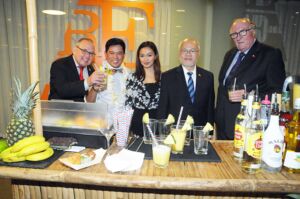 Standing in between some of the most important people present, I got to meet (left-right) Copenhagen Post sales director Hans Hermansen, possibly the most flamboyant cocktail shaker I've ever seen, Philippines ambassador Bayani S Mercado and Poul Krough, the counsellor for the Philippines at the Danish Consul, who gave quite an interesting speech about a theory of his regarding how the Philippines was established.
The delicious looking food didn't disappoint (top left).  From fried dumplings to healthy spring rolls, there was enough for everybody to get full. While lining up for the food, we were entertained by the aforementioned bartender (top right) – who showed off all his moves and throws to great amazement and laughter – and Zel (bottom left), a Philippines band that has followed the promotion tour all over Scandinavia.
Before the night ended, everybody made sure they visited the photo booth, making use of some colourful props (including a few copies of the Weekly Post) to create a fun memory of the occasion. The Department of Tourism Philippines definitely made our country proud!