News
Biotech giant Bavarian Nordic sees share price spike on the back of HPV vaccine deal
---
This article is more than 8 years old.
The Danish company will receive 171 million dollars from Johnson and Johnson subsidiary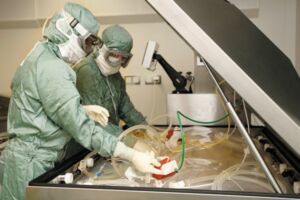 The share price of the Danish biotech company Bavarian Nordic has shot up by 6 percent following the announcement that the company has signed a licence and collaboration deal worth 171 million dollars with Janssen Pharmaceuticals, a division of Johnson and Johnson.
The deal will give Janssen exclusive rights to Bavarian Nordic's MVA-BN vaccine in the treatment of human papillomavirus (HPV). The product will be combined with Janssen's AdVac technology in the treatment of all cancers induced by HPV.
CEO: Potential to transform treatment paradigm
Paul Chaplin, the head of Bavarian Nordic, sees great potential in the collaboration.
"We are excited to expand our collaboration with Janssen on the evaluation of MVA-BN as a therapeutic approach to HPV, which represents a significant opportunity to transform the treatment paradigm in cervical and other cancers induced by the virus," he said.
"Through the ongoing collaboration on Ebola, we have already made significant advances with our MVA-BN technology, demonstrating its potential to enhance and prolong immune responses induced by Janssen's AdVac technology, and we look forward to expanding the partnership to explore the same concept for HPV."
Bavarian Nordic has had an exceptional year, with its share price increasing by more than 70 percent since January.