History
How the bloodline of Frederik VII, the childless king, lives on
---
This article is more than 7 years old.
With Valentine's Day approaching, we thought we'd revisit one of our more romantic Danish history stories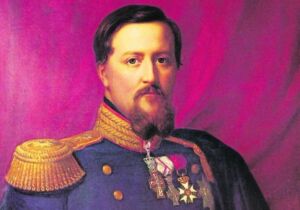 It must be with a certain tongue-in-cheek reverence that the friends of Danish citizen Else Margrethe Bondo Oldenburg Maaløe refer to her as 'The other Margrethe', because while it has been proven she is one of only four living descendants of the 19th century monarch King Frederik VII, it wouldn't be surprising (given the adulterous ways of the royals) to learn the whole country is descended from blue blood in one way or another.
READ MORE: The lost princess: How the Schleswig- Holstein Question just got even more complicated
The last of the Oldenburgs?
Frederik VII was the childless king and with him died the Oldenburg dynasty, which had reigned over Denmark since 1448. His successor Christian IX – whose accession to the throne as the third son of the Duke of Schleswig-Holstein-Sonderburg-Glücksburg is surely the most fortuitous in history is the great-great grandfather of the present queen and an ancestor of most European royal houses – so much so that history – remembers him as the father-in-law of Europe.
Nevertheless, four letters hidden by Maaløe's family for the best part of a century in a grand piano prove that his predecessor had a son with a servant at Christiansborg Palace named Else Maria Guldborg Pedersen (also known as Marie Poulsen). The christening even followed royal protocol, naming him Frederik Carl Christian Poulsen – a claim that historian Jan Møller also made in his 1994 biography of the king, 'Frederik 7. – En kongeskæbne'.
A "delighted" father
In the letters Frederik VII acknowledged his paternity and even made references to seeing his son, on one occasion revealing that he was looking forward to giving him a kiss.
"My own good Maria! Please accept my thanks for the son you have given me, it makes me just sorry that you have suffered so much so," he wrote after the birth.
"I look forward to giving him a father's kiss when I come to Copenhagen. When you again get well, good Mary, I will be delighted to see you again, and then you will probably also continue to be mine? Perhaps God will give us many joys yet. Let me now see that you take good care of the lad, so that he will come to resemble his father and I can see my likeness in him. Give the kid a kiss from me, which always remains with love. Your trusty Fred.'
It is believed that the king supported his son's upbringing, paying for his education, and had plans to make him his private secretary, but died before he could see them through. Poulsen was later named one of the beneficiaries in the will of Frederik's widow.
The notes were in the piano
"The letters were in my father's grand piano, while my parents lived," 'Gete' Maaløe told Politiken newspaper in 2009 as part of the publicity she was drumming up for her bizarrely titled book 'Getes erindringer – Slægtshistorie, erindringer og beretning om et jævnt og (for det meste) muntert, (altid) virksomt liv' ('Gete's Memoirs: Family History, Memoirs and a Tale of an Even and (Mostly) Merry, (Always) Active Life').
"And I have actually kept them in a grand piano, until recently, when I moved them into a bank vault. It gives me a nice feeling to read those beautiful letters. In my mind I love my great grandfather, and in the letters, he showed great love and concern for both son and mother."
But while the story is clearly an interesting one by today's media standards, the first line of the 2009 Politiken article perhaps went too far when it stated that Maaløe "could in theory be the queen of Denmark today", because even if Frederik had been married to Poulsen's mother, his son still wouldn't  have become king.
Would have been morganatic
Don't forget that the growing trend among European crown princes to marry commoners is not necessarily a sign of the times, or even a desperate measure to stop inbreeding. The stark reality of the matter is that until recently marrying commoners was simply not allowed by most European monarchies. Had Crown Prince Frederik married Mary Donaldson 60 years ago, their heirs would have been considered bastards, and in the ceremony Frederik would have had to hold Mary's right hand with his left – the shame of it!
It was only in 1953 through the Danish Act of Succession that morganatic (or left-handed) marriages like Frederik and Mary's were finally permitted by the Danish monarchy. Up until this point morganatic marriages had in-built pre-nups that ensured the husband's titles and privileges would not pass to their wives if they died, nor to their children.
Christian IV's second marriage in 1615 to minor noblewoman Kirsten Munk was morganatic. She was made Countess of Schleswig-Holstein, and all of her 12 children were disinherited. In this case Christian already had seven children from his first marriage (and numerous completely illegitimate ones from various mistresses), so it didn't become a particularly big issue.
The bizarre love triangle
And Frederik VII's third marriage in 1850 to the ballet dancer Louise Rasmussen, who took the title of Countess Danner, was also morganatic – although once again, it didn't have much bearing on the succession as it was popularly perceived by that time that Frederik was infertile.
Rasmussen wasn't. She'd already had a child with Carl Berling, the owner of Berlingske Tidende newspaper, who completed a rather bizarre love triangle (one of the countess's favourite tricks at their home at Jægerspris Castle was to rip her clothes off, stick a candle up her bum and pretend to be a dog) as it was rumoured he was also a lover of Frederik's – was this another factor behind his 'infertility'?
Centuries later, still childless
But Maaløe is – childless, not infertile! – which is bad news for the bloodline of Frederik Poulsen, the illegitimate son of Frederik VII, as there are only three other descendants: Maaløe's sister and her two sons, both of whom are currently childless.
So despite his secret issue, it would appear that Frederik VII's lineage will die out, but over 150 years later than was initially reported.
Or so the world thought back when this piece was written and published four and a half years ago. In late 2014, this very newspaper reported that Frederik had a secret daughter with the Countess Danner and that their descendants live on – mostly in Britain, where the young child was whisked away in secrecy in 1851 to avoid a potential uprising that could have plunged Europe into an unwanted war.