Culture
Art Exhibition Review: Exploring the Intimate World
---
This article is more than 7 years old.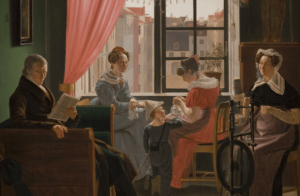 Ever since the 17th century Dutch masters popularised the genre, interior paintings have been a common subject for European artists. However, the depiction of these interiors, and the way the intimate sphere is portrayed, has changed a great deal since then.
An exhibition at the National Gallery of Denmark (SMK), curated by the director of SMK, Mikkel Bogh himself, explores these themes in almost 200 works spanning the period 1730-1930.
The exhibition is not chronological, but has been divided up into six themes, where pictures from different periods are juxtaposed to present particular aspects of intimacy.
Domestic bliss
Emil Bærentzen's 'Family Portrait' from 1828 shows a typical scene of domesticity as enjoyed by the reasonably well-off. There is an all-pervading sense of well-being and pride, and the room is light and airy with a window out onto the world. Similarly, Martinus Rørbye's 'View From the Artist's Window' from 1825 is all about openness and the contrast between the world inside the house and the possibilities of the world outside. Both of these pictures present a fairly harmonious world view.
In contrast, Carl Bloch's picture showing two boys looking into a kitchen window at fish and seafood on the kitchen table seems a little darker in tone. They are both fascinated by a live lobster that has crawled to the window. However, one boy seems interested and the other registering horror or disgust. There are also flies crawling on the vegetables and on the window, perhaps recalling vanitas imagery from 16th and 17th century Flemish painting.
A motif in itself
As art styles became more modern and free, it was no longer necessary to adhere to the purely representative way of painting, and so we see that the interior often becomes a motif in itself.
Hammershøj's interiors hark back to the work of Vermeer. If there is a person in the picture, it is usually a woman who is often shown from behind. The figure becomes a sculptural element or part of the furniture, and the use of pale grey, white and brown tones adds to the almost abstract other-worldliness of the picture.
Ambiguity in storytelling
In Anna Ancher's 'At Noon', we see an interior with an open door out onto a courtyard. In the doorway is a pair of clogs, presumably a man's by their size. In the house, another smaller pair of clogs point to what might be another room: a domestic scene in which a man has come in for lunch, the other shoes belonging to a child perhaps? But we can't be entirely sure.
Likewise, Edward Hopper's etching from 1918 of two figures on a train carriage (Night on the El Train) seems to be telling a story, but it is also ambiguous. The figures are some distance away, and the woman has her back to us. Are they embracing or arguing? In any case, the picture seems slightly disturbing, exuding a feeling of loneliness.
Other aspects
The exhibition also touches on other aspects of intimacy: eroticism, private moments, sensuality and closeness.
With works by Chardin, Menzel, Munch, Bonnard, Degas and others borrowed in specially, and selected pictures from SMK's own collection, this exhibition gives a good indication of how the intimate sphere has been developed and shaped though different forms of artistic expression over a 200-year time-span.