Film
This Week's TV: Super likeable but super bad
---
This article is more than 7 years old.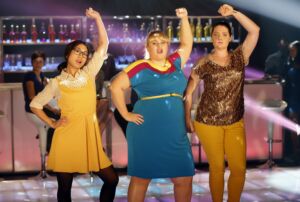 Pick of the Week: Super Fun Night
Zulu, Fri 00:55
Netflix gave Aziz Ansari a trillion dollars and the rest is history: Master of None, a sitcom that nobody under the age of 19 has a bad word to say about.
But they weren't the first. In 2013, ABC handed a blank check to plus-size stand-up turned actress Rebel Wilson (Bridesmaids – impossible to miss right now promoting Single in New York).
But while Wilson tears it up as the quirky lawyer with zany friends who's in love with her co-worker, it bombed on Metacritic, scoring a 46.
"Super Fun Night isn't just bad, it's infuriatingly bad given Wilson's likeability, game energy and overall potential as a TV personality," observed the Huffington Post.
Still, Wilson is clearly a force to be reckoned with – a big middle finger to, in this sitcom's case, Ally McBeal and her skinny friends. (AW)
---
Also New:
You probably haven't heard of British gangster film A Landscape of Lies – it went straight to the counter at the service station.
But it started as a 200 million kroner blockbuster starring Jeremy Irons, a ruse to fleece investors and the British tax payer.
Chancers: The Great Gangster Film Fraud (DR2, Tue 20:45) provides the insider's story on a film that was written in a couple of days by Charlie Kray's godson – and he wasn't even in on it!
Not all ruses are bad. Saving the Cyber Sex Girls (DR3, Tue 19:50) catches up with the op to entrap paedos with a digital 10-year-old Filipino girl. Finding them is easy, prosecution harder.
There was nothing fraudulent (or paedophilic) about a Buddhist monk's community for neglected kids in the foothills of the Himalayas. India: Tashi and the Monk (DR2, Tue 23:05) tells the story of one five-year-old girl who doesn't play by the rules.
Elsewhere, 2014 doc That Sugar Film (SVT2, Mon 22:15) is a sickly Super Size Me; Life on Scilly (SVT2, Sun 17:10) is a reality show set on Britain's poorest islands; we've got MGP (DR1, Sat 19:30), the mini-Eurovision and The Grammys (DR3, Sat 20:45); and Heath Ledger – too young to die (DR3, Sat 19:10) and Roman Polanski: A Film Memoir (DRK, Thu 02:00) recall careers that that could have been so very different. (BH)

---
Coming Soon: Love
Its wild-babe meets ultimate dork plot makes it sound like a bad romantic Hollywood movie, which is maybe why the leads throw so many of those films out of their car window.
But seriously: for all those lonely hearts out there, take note of this one. It will be peachy.
Judd Apatow (Knocked Up) has that tendency to create series with ballsy attitudes towards life that always end up being the talk of town, and it's no surprise to see he's teamed up with Netflix for this satirical comedy.
Make a large order of popcorn and get ready for a weekend marathon because all the episodes will be available this Friday! (EN)
---
Sport of the Week
Are Arsenal practising penalties – as in their opposition's? Barca are too busy laughing about Juventus vs Bayern Munich (TV3 Sport 1, Tue 20:40). They've lost to the Gunners before, but always manage to squeeze through. Dynamo Kiev vs Man City is the other big game. Elsewhere we've got the FA Cup and late-night NBA and NHL (most nights on TV2 Sport and TV3 Sport 1). (BH)
---
Film of the Week
Bradley Cooper took his rats' maze to American Hustle after losing out to the Labrador in the lead role alongside Michelle Williams (arguably with an even worse hair-day) in Wendy and Lucy, which is marginally better than Turner & Hooch. Meanwhile, Keanu Reeves was in The Matrix, which made him more than qualified to make his directorial debut with Man of Tai Chi. (BH)