News
Rare Renaults going under the gavel in Denmark
---
This article is more than 7 years old.
Car enthusiasts heading to Randers on Palm Sunday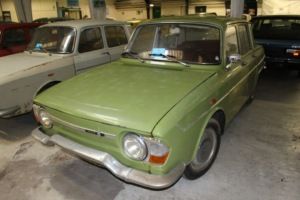 A fleet of cars dating back to the 1950s will be going up for auction in Randers on Palm Sunday, March 20.
A married couple from Funen have been collecting the French automobiles for over 50 years. The couple have decided there are too many for them to restore and make road-worthy, so they have decided to put the collection up for sale.
Anker Krarup purchased his first Renault – a 4CV – in 1968, beginning a love affair that grew throughout the years, particularly throughout the 1980s.
A cornucopia of fine French engineering
Virtually every Renault model from the 1950s up until the 70s will be on offer, including three Renault AHG-vans from the early 1950s, seven Renault 4CVs from the 1950s and 60s and nine different Renault Dauphine models from the same period.
Krarup and his wife have decided that the cars should be on the road, not gathering dust and rusting in their barn. Most of the vehicles are 'fixer uppers', and will require work before being ready for the road.
READ MORE: Collection of vintage cars uncovered in Danish barn
The sale will be handled by Campen Auctions in Randers on March 20.