Performances
Grab the operatic opportunity to see this first-class, fat fellow in the flesh
---
This article is more than 7 years old.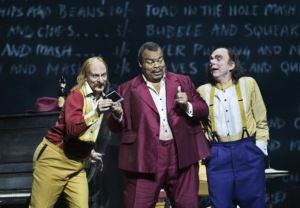 The Peter Langdal production of Giuseppe Verdi's last opera 'Falstaff' is currently being shown at the Copenhagen Opera House. Falstaff is a character well known to Shakespeare fans, since he appears in no less than three of his plays.
Sir John Falstaff (Donnie Ray Albert) is a witty, bombastic and broke nobleman, who is particularly fond of women and wine. When it comes to taking care of his own interests, he gets quite creative and opportunistic, but unfortunately he isn't sneaky enough to achieve his goals and he ends up getting outwitted by the women he tries to fool. He is a sizeable fellow, but he would have it no other way: his belly defines him and he carries his inflated paunch with joy and pride.
Although he is neither sympathetic or kind-hearted, you still can't help liking his amusing character throughout the piece.
As the story unfolds, we meet the sneaky and vengeful women of Windsor (the merry wives and wenches) dressed in colourful ensembles, shining as they try to outdo one another with their singing voices, and the naïve, balding, big-nosed servants Pistol and Bardolph (a character in no less than four Shakespeare plays, which is surely a record).
A lively experience in beautiful settings
The production values were top notch. But while the singing was beautiful throughout, at the beginning very difficult to hear because the music was so loud. However, a few adjustments later and we could really appreciate the  acoustics of the Opera House.
Since the language of the show was in Italian, Danish texts were presented above the stage. Nevertheless, it proved difficult at times to follow the text at the same time as following the action on the stage.  In the end, I just had to let go and enjoy the acting and the beautiful scenography and accept that I wasn't going to pick up every little detail they were singing about – which I guess is what going to the opera is all about anyway.
'Falstaff' is a light and colorful comedy that will very likely appeal to first-timers as well as seasoned opera-goers. The experience of going to the Opera House is definitely worth it if you haven't been before, as its acoustics and interior deliver an experience that is unforgettable.