InOut
At Cinemas: How much Alan Bennett can one city handle?
---
This article is more than 7 years old.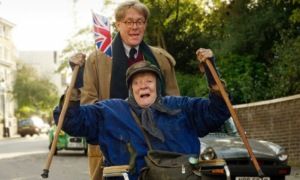 After enduring last week's cinema drought (brought about by the expected dominance of Batman v Superman – which instead saw a sharp drop in sales after its opening) there's plenty to appease your eyeballs and earholes this week.
In pole position is Jon Favreau's The Jungle Book, the latest in Disney's long line of live-action makeovers of their classic animations. See this week's review to find out how Favreau fared.
Hardcore is an action thriller, unique in that it is filmed entirely in the first person, much like a video game. Henry is resurrected from the dead with no memory (stop me if you've heard this one) and must shoot, kill and karate chop his was through hordes of bio-engineered soldiers to save his wife and learn his true identity. The reviews have been lukewarm.
The Lady in the Van has performed much better with critics – it stars Maggie Smith as a woman who lives in her van on Jim Broadbent's drive.
READ MORE: The CTC present Kafka's Ghost
Similarly, Michael Moore is claiming new territory, albeit in a more playful manner in Where to Invade Next. Once again analysing US foreign and domestic policy, this time he's comparing his homeland with that of European countries.
Finally, David Lean's Oscar-winning masterpiece Dr Zivago is getting a newly-restored print and screening at Imperial (amongst others).
Over at Cinemateket, they're celebrating next week's release of Mr Holmes, in which Ian McKellen appears as the eponymous detective in his twilight years, with a retrospective season of Sherlock-themed films. On Saturday you can see Barry Levinson's Young Sherlock Holmes at 12:30. The David Bowie season continues, also on Saturday. with Nic Roeg's incredible sci-fi drama (possibly Bowie's best performance as an actor) The Man Who Fell to Earth at 21:15 (dfi.dk/Filmhuset).
For those of you who are aware that April 20 is Cannabis Day, you might be interested to know that Huset is marking the occasion with a double bill of amusing anti-cannabis propaganda: Marijuana: Weed With Roots In Hell (1936) and Reefer Madness (1936). Tickets are 50kr for both films – the screening starts 20:00 (huset-kbh.dk).