General
'Ouishare': Sharing and Collaborative network
---
This article is more than 7 years old.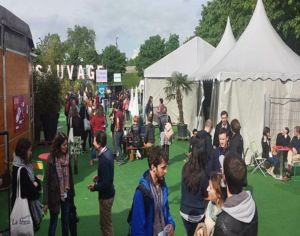 The word 'sharing' is becoming a new buzz word of our time. Almost all nations of the world are developing new sets of social political frameworks using digital technologies. OuiShare Fest 2016 is one of those initiatives from Paris, France that fosters exchange of knowledge to create meaningful value for the people, planet and projects. The event runs for three days, and this year it is being held at "The Village" of the Cabaret Sauvage in Paris. One of the key hallmarks of the festival was to accelrate three incredible open source projects involving the attendees and experts. 
Ouishare team has carefully selected three projects among many applicants to receive the feedback from experts and attendees of the FEST. The goal was to leverage the participants' collective intelligence to help the projects have a more positive impact.
Pioneers and settlers this May embarks on a journey to step out of their comfort zone and connect with others dedicated to driving systemic change.
A 3-DAY ACCELERATOR FOR COLLABORATIVE, OPEN SOURCE PROJECTS WITH HIGH SOCIAL IMPACT.
DISCOVER THE PROJECTS
Low Tech Lab is a collaborative research platform about low technologies. It aims to build a worldwide community of inventors who create and share knowledge in areas such as energy and nutrition.
Part-up is a platform for matching people to temporary teams. It helps participants to find and build the best tribe from within or without the boundaries of organizations. It promotes decentralization and bottom-up collaboration for start-ups, communities and companies.
Science4Sustainability is a platform that helps to link science and business. It connects experts and scientists to social entrepreneurs by promoting their stories online.
Each project has a challenge to solve in the course of the 3-day accelerator. Watch their videos to find out more!
OuiShare Fest gathers creative leaders, entrepreneurs, movement builders, purpose-driven organizations and communities from across the globe to explore the edges of the economy, society and ourselves.
THE ROAD TO BUILDING YOUR LOCAL OUISHARE COMMUNITY
One key belief within the OuiShare community is that collaboration makes people achieve even greater success. Yet, it can be sometimes puzzling for the people in local communities to respond to the enthusiasm they are arousing.
We are Clara, Pierre, and Tanguy, three Business School students who came across OuiShare a few months ago and have since then been fascinated by its horizontal organization and the initiatives led by its communities. We decided to launch a research project to understand it better, with the goal to provide a framework and a tool for community building. Our methodology: gather a maximum of testimonies from OuiShare people including, last December, at the London OuiShare Summit. The outcome: a shareable and intuitive framework for community building.
Article compiled from Ouishare Magazine