News
Floating Russian nuclear power plant headed for Great Belt Bridge
---
This article is more than 7 years old.
But we're told there's no need to panic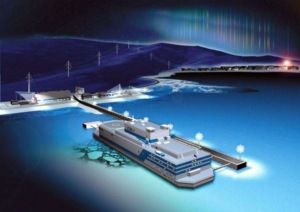 The world's first mobile nuclear power plant, Russia's floating Akademik Lomonosov, will enter Danish waters on its journey to the Arctic next year.
The nuclear station will sail through the Baltic Sea and onward to the Great Belt Bridge. It will then travel up the coast of Norway before finally arriving at its destination north of Siberia.
Once there, it is expected to provide power and convert sea water to drinking water in some of Russia's most remote regions.
Navy to follow passage
Akademik Lomonosov is expected to arrive in October 2017 and the Danish Navy is preparing to follow its passage – however, they only plan to observe it remotely from land.
"We aren't planning on doing anything proactive – unless there is something patently illegal, or we are requested to do so by other authorities," navy commander Gustav Lang told DR.