InOut
Vildskud hits a new high
---
This article is more than 7 years old.
International theatre director Stuart Lynch, the headmaster of KFTS-Københavns Film & Teaterskole, sings the praises of Copenhagen theatre festival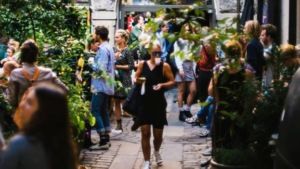 The Vildskud contemporary theatre festival (August 9-12) has been providing Copenhagen with a platform for contemporary theatre for 14 years.
The festival combines great energy, good curation and high production standards to provide a yearly not-to-be-missed summer event.
New addition
Vildskud's consistency and quality has created an amazing forum for young Danish theatre to shine, and this year a new addition widened its reach.
A special 'Mini Vildskud' took place at the Royal Theatre as part of the CPH STAGE festival. It was a great and worthy achievement and in total keeping with the passion and vision that this festival has always shown.
Lynch's hot picks
The following are my four top picks for the festival. Do you agree with my choice? Maybe you'll find something more to your liking at vildskud.dk.
Top of the list is Heartbreak for Dummies. Teater Partner In Crime is a newly minted theatre-group that comes directly from sold-out shows and great reviews at Bådteatret last month. A group already looking like seasoned theatre professionals, this is a definite 'Don't Miss'.
Panzerrkampfpanda presents Nogle Gange Under Vandet. This is a monologue based on a true story that has imagery and a description that suggests beauty, poetry and intrigue.
My and Victoria aims to hit the comic high notes with Hurra För Scandinavia. A satirical look at Scandinavian youth, this energetic work is a premiere from a new company and in my view epitomises the mission of Vildskud.
The last shout out goes to Luloma and its The Three Rooms. This is a longer version of a work that won one of the categories at Mungo Park's yearly Theatre Battle. If it is half as good as its shorter version, it will be worth the visit.