Things to do
CPH POST is buying lunch!
---
This article is more than 7 years old.
Win tickets for three-day food fest in the Meatpacking District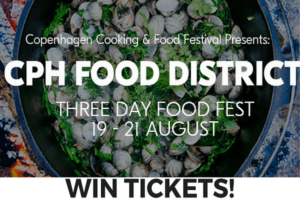 Are you looking forward to the Copenhagen Cooking & Food Festival? Sign up for CPH POST's free newsletter for a chance to win two tickets in tomorrow's draw!
CPH POST is giving away 3 x 2 tickets for the CPH Food District.
The tickets are for all three days (August 19-21 ). Entry for children under the age of 10 is free, so the winners can bring their children.
Just remember to sign up for CPH POST newsletter before 13:00 on Wednesday August 17 and you will be in the running for a pair of tickets. 
READ MORE: Six of the succulent best from Copenhagen Cooking
Gastronomy galore
CPH Food District is the name of a brand new experience during the Copenhagen Cooking & Food Festival where we are inviting you to a three-day food fest in the Meatpacking District. We will take over Øksnehallen and Kvægtorvet and set up a foodie heaven with chef battles, kitchenware markets, cocktails, new ways of producing food and much, much more.
Become wiser when radio station P4 Copenhagen hosts a scene with debates, talks and discussions about new food trends. You can learn about fermentation, cooking on an actual fire and creating your own urban garden. You can see the best chefs in the country compete in the Dish of the Year, meet Danish farmers and their large selection of vegetables, buy the coolest kitchenware, watch food documentaries under the stars or cook in one of the many food workshops on offer.
In other words – it's a celebration of the Copenhagen gastro scene and Denmark as the great culinary country it is.