Activities
The countdown to Aarhus Festival 2016 has begun
---
This article is more than 7 years old.
So what are you waiting for? Start plotting a course there to enjoy one of its 600 cultural events and concurrent food festival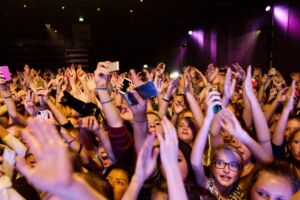 Wherever you are in Denmark right now, if you want to have a good time, travel to Aarhus, because for ten days, the country's second biggest city will be transforming into a huge party!
In the presence of Her Majesty
Aarhus Festival is an annual celebration that has been going on since 1965. As one of the largest cultural festivals in Scandinavia, it includes more than 1,000 events.
And this year, its patron Queen Margrethe ll will grace the festival with her presence when it officially starts on August 26.
Subversion of the senses
The theme this year is 'Upside Down', so expect the unexpected and an overall subversion of physical, verbal and digital expression.
Aarhus Festival's new head Rikke Øxner is behind this concept and feels it's both intuitive and easy-going.
"The theme allows us to turn things and concepts upside down, and it paves the way for a lot of fun," she explained.
Something for everyone
The activities are diverse and suited to all ages and preferences. Ranging from workshops, concerts and art exhibitions to yoga, ping-pong and boat rides, there's a lot to choose from.
Among those worth mentioning is the Cabaret show at Tivoli, which promises to take you back to a nightclub in the 1920s.
Can you really afford to miss out on this feast?  Go through the program online and find something fun to attend!
Gastronomic relish
Good food will play a huge role in the festival. For all the hungry stomachs and foodies in attendance, the options are plenty.
Aarhus Street Food debuted last week and will be open every day during the festival. Comparable to Papirøen in Copenhagen, the venue offers food from all over the world, including Jamaican dishes, Thai, Japanese, American burgers, French crepes, grilled cheese and the classic fish & chips. 
There will also be street food at Klostertovet, Food Tasting from seven of the best restaurants in Aarhus, and a big bazaar at Store Torv, where festival-goers will be able to appreciate different smells, tastes and delicacies at a number of stalls. And don't forget the Aarhus Food Festival by the seaside. Look out for the special promotions from September 2-4.
In the presence of His Majesty
If you are a fan of rap, you might want to check out the unofficial opening on the 25th. Liam O'Connor, the Danish rapper known as LOC, is returning to his hometown to mark the start of the festival.
He will delight fans with the poetry and beats of his most downloaded album, 'Prestige, Paranoia, Persona Vol 1'. The concert will take place in the City Park between City Hall and Musikhuset Aarhus at 20:00. For tickets, visit this link.