History
No fairy princess: the bull-riding, tattooed free spirit
---
This article is more than 7 years old.
Fashion tips for future royalty? How about an anchor tattooed on one's forearm, donning a fireman's uniform or going for park rides on a bull?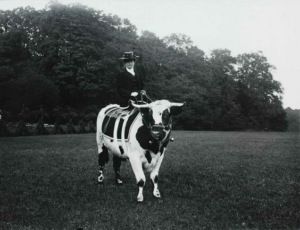 We should really call Prince Joachim's second wife Princess Marie II. And it's a title that she will be hard-pressed to live up to, as the original Princess Marie was an eccentric character who this country will never forget.
Marie of Orleans was just 20 years old when she met Valdemar, 27, the youngest son of Queen Louise and King Christian IX of Denmark, in 1885 while the Scandinavian prince was visiting her noble French family in Amsterdam. It must have been love at first sight, for Valdemar proposed after just three days in her company, and the couple were married in Paris on October 20 of the same year.
Princess Marie was actually born in Ham, England on 13 January 1865, the daughter of the Duke and Duchess of Chartres, who had been exiled after the dethroning of Louis Philippe. She was to spend her early childhood there until the family returned to France in 1871, after the fall of the empire. Such early treatment most likely had a lasting impact on the future royal. As a young woman she described herself simply as a "young bourgeoise".
A Catholic's compromise
Her eventual husband, Prince Valdemar of Denmark, lacked the ambition of his elder brothers. He had politely declined offers of thrones in both Bulgaria and Norway as his stock has grown as his parents had become known as 'the in-laws of Europe' due to their links with almost every royal house on the continent.
Marie was a Catholic, Valdemar a Lutheran-Protestant, and the couple accordingly had two wedding ceremonies. The first was a Catholic ceremony and the second witnessed the exchange of Protestant vows.
On the raising of any future offspring, the pair reached a compromise: all sons would be Protestants, while any daughters would be raised according to the principles of the Catholic church. As it turned out, the couple had five children, of which four were sons (Aage, Axel, Erik and Viggo) and only one a daughter (Margrethe). So, there was to be only one more Catholic in the family.
They arrived in Copenhagen on 20 December 1885 and moved into the Gold Palace on Amaliegade, where Marie appeared to settle easily into her new life. She learnt Danish quickly, though it must be admitted never to perfection.
A beacon of excitement
Possessed of a lively, somewhat restless spirit, Princess Marie transformed the Gold Palace and the ultra-conservative Royal Court into a meeting place for liberal and artistic minds – a sort of salon for writers, painters and other artists.
Times were changing all over Europe, both politically and culturally, and the princess took to the new, modern order like a fish to water. A productive and talented amateur painter herself, she exhibited separately at Charlottenberg in 1889 and in their spring shows, both in 1901 and 1902. She also had an exhibition held in Paris the following year.
Perhaps a bit surprising was the princess's talent for matters of business, as she frequently bought stocks in new companies. She used her international connections to introduce the boss of OK (the East Asian Trading Company) to influential individuals in Russia and France – a lifelong association that culminated in a position in the firm for one of her sons, Prince Axel.
Prince Valdemar was an officer in the navy and was often away at sea for long periods of time. No doubt out of respect for her husband's career and to the bravery of his fellow marines, the princess had a tattoo of an anchor inked onto her right forearm.
Horses and bulls
But she did not stop there. Taking to heart her role as official protectorate for the fire brigade, she designed her own firefighter's outfit and took to posing in it for photographs, lending herself easily to satirical sketches of the time.
Automobiles were just one of the new inventions of the period, and Marie did not miss the chance to try her hand at driving one. She didn't forsake horse riding however, nor her peculiar habit for riding a bull – a pastime she could often be seen indulging in Bernstorffsparken.
Princess Marie died unexpectedly on 4 December 1909, at the age of 44, after a bout of flu that had developed into an inflammation of the brain. Her husband and three of her sons were travelling in Austria at the time of her death. They returned home too late for her burial in the grounds of Roskilde Cathedral.
"I believe that a person, no matter what their standing in the world, should be themselves and not allow others to colour them," she wrote to the writer Herman Bang in 1896. Whether in spite of her many eccentricities or because of them, she was known to be the ageing king's favourite. She achieved a high level of popularity without appearing to strive for it – just by doing her own thing.