News
Danish police speculate that Netflix series could be behind stones being dropped on motorways
---
This article is more than 7 years old.
A scene from 'Slasher' may have started it all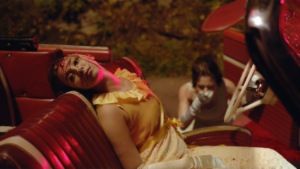 Police on Funen are investigating whether a Netflix series may have inspired the killer who dropped a concrete slab onto a German family's car from a motorway bridge on August 21.
A woman travelling in the car died when a 30-kilo stone struck the car where she sat with her husband and five-year-old son. The boy escaped serious injury, while the man was badly hurt.
Since that attack, more stones have been dropped on vehicles passing under bridges across Denmark. The latest episode involved an ambulance on an emergency call being hit by rocks as it passed under a motorway flyover outside of Aalborg.
Inspired by Netflix
Funen Police now claims it is aware of a Netflix series that may have inspired the deadly trend.
"During the course of our investigation we have become aware of a Netflix series containing a scene in which a person throws a concrete block down onto a car below them," Michael Lichtenstein from Funen Police told Jyllands-Posten.
READ MORE: Woman killed by rock thrown off motorway bridge
The series 'Slasher' premiered on Netflix in Denmark in early July and the third episode begins with a young woman pushing concrete building blocks from a bridge and hitting a car carrying five unsuspecting young people.
"Someone brought it to our attention, and the idea that the scene has inspired someone to commit these acts cannot be dismissed, along with the possibility that the incidents are inspiring copycats," said Lichtenstein.