News
British couple taking Danish financial institutions to court over broken promises and lies
---
This article is more than 7 years old.
Barry and Maria Gill allege that Sydbank and Nykredit were in cahoots to defraud them, feeding them misinformation, lending them money and then mismanaging it. And now they're selling their home at auction next week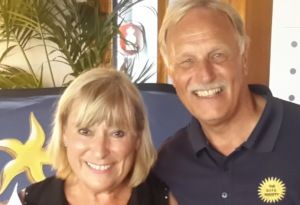 For most of the people in attendance at a Marbella auction in Spain on Monday, lot SUB-JV-2016-16089 will be just another potential investment.
But to 65-year-old British expats Barry and Maria Gill, it is their home. And they wholeheartedly blame Danish financial institutions Sydbank and Nykredit for losing it.
The Gills, who are not alone in feeling they have been duped by Sydbank and Nykredit, have initiated court proceedings against the pair.
But the judicial process in Spain is painfully slow, and by the time they get their day in court, their dream Spanish villa in Istan on the Costa Del Sol will have new owners.
Punitive inheritance law
When the Gills moved into their villa in 2006, they owned every single brick of their property and felt financially secure. However, they had not banked on the Andalucian inheritance tax law, which stipulates that in the event of one of their deaths, 40 percent of the deceased's half of the property would be payable: 20 percent of the total value, which at that time stood at 1.2 million euros.
They were alerted to this by David Driver of Offshore Investment Brokers, a financial advisor active in the area, who advised them of a way of bypassing the tax.
"We were starting out a new life, in a new country, were naïve to the laws of Spain at that time, and so were prepared to listen to someone who claimed to be an expert in these matters," Barry told CPH POST.
The Gills were advised to take out a 90 percent interest-only mortgage on their financially unencumbered property – thus reducing their inheritance tax liability from 20 to 2 percent of the value.
And they were advised to talk to the representatives of the Swiss branch of a Danish bank, Sydbank, and its mortgage company partner, Nykredit.
"Driver assured and guaranteed to us that the bankers he was an agent for were very reputable and that they had a guaranteed profile and a great deal of experience in investing money for retired clients, in this way, for many years," explained Barry.
Peerless goes pear-shaped
So Nykredit duly lent the money, and Sydbank agreed to look after it. The Gills were adamant they didn't want their 891,600 euros invested in anything 'high risk'.
Sydbank's reps spoke of big profits – this was just before the financial crisis, of course – but eventually gave their assurances that their 'Peerless Conservative' scheme would be 'low risk' funds: that the profits would take care of interest repayments and their fees without eating in the capital.
As far as the Gills were concerned, Sydbank had guaranteed it would pay their mortgage, and they could relax in the knowledge that should one of them die, the other would face a small tax demand.
After one year and four mortgage payments, the capital sum had started to decrease. The worried Gills met with advisors from Sydbank several times and a pattern emerged: they never met the same person twice.
"We were assured that our investment was being very well looked after.  We certainly never received the same attention that we received when they were coercing us to do the deal in 2006," said Barry.
Sydbank hits the fan
By 2008, the Gills decided to move their capital sum out of the Peerless fund, again trusting Sydbank to help them find a sustainable arrangement. But their capital fund continued to dwindle – even with the personal assistance of a Sydbank senior vice president, Mads Petersen.
Petersen then stopped responding to their emails, and in 2012, the Gills arranged to meet Nykredit. It was then that they learned that Sydbank had shut its Swiss branch and moved to Germany, and that Petersen no longer worked for the bank.
"Well you could have knocked us over with a feather at this latest news that was given to us quite by chance," remembered Barry.
"We later learned that Sydbank decided to close their Swiss branch because of the threats of legal action they were receiving against them and Nykredit from similar cases of fraud such as our own."
600,000 euros in arrears
And then it went from bad to worse. Sydbank, without the Gills' consent, took the remaining 294,228 euros of their capital – roughly a third of the original sum – and paid it directly to Nykredit.
They offered the Gills an "ex gratia" 40,000-euro payment to settle the remaining two-thirds, explaining that should they decline, they would have to contact the liquidators of the Sydbank Swiss branch to receive the residual amount of their invested money.
"It was then explained to us that the guarantee, which we were told was a guarantee by Sydbank to Nykredit to pay from our invested cash, was in fact a guarantee from us to Nykredit if the investment went wrong," said Barry.
The Gills were therefore left with an outstanding mortgage of 600,000 euros to pay – on a property that just six years earlier they had owned outright.
An absolute misery
It was at this moment the Gills knew they would have to take legal action against Sydbank and Nykredit, but five years later, there is no indication it will soon be resolved.
And they are not the only ones. While the Gills' health has suffered tremendously in the past decade, the widow of a man similarly treated blames his heart attack on Sydbank and Nykredit.
Just recently, one of the couples had their day in court and the Gills attended – unlike Sydbank. Nykredit, though, were present, and their lawyers denied any relationship with Sydbank or knowledge of their customers' plight.
"This fraudulent equity release scheme has made our lives an absolute misery for the past 10 years," said Barry.
"These bankers earned a lot of money in fees from our money and then just walked away with not so much as a 'sorry'. If anything we have claimed is untrue then we would invite either Sydbank or Nykredit to take legal action against us. I would welcome this."
All for nothing
Unable to pay their mortgage over the last four years, they are now powerless to stop Nykredit from selling their dream retirement home this Monday.
And to think this nightmare could have been avoided, as the Gills have since been informed in writing by the Spanish Tax Authority that they would not have saved any money on their inheritance tax payment, as mortgages like this are considered fraudulent.