Denmark
Clean-up of Danish harbour will cost nearly 100 million kroner
---
This article is more than 7 years old.
February fire and spill in waters around Fredericia will be expensive to fix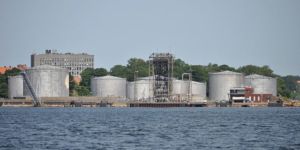 The port city of Fredericia was the scene last February of one of the most serious cases of environmental pollution in Danish history. Five storage tanks containing 4,000 tonnes of fertiliser and 2,000 tonnes of used vegetable oil were dumped into the Little Belt.
Danish environmental consultants Dansk Miljørådgivning now say that it will cost at least 96.2 million kroner to clean up the mess, according to TV Syd. Local authorities required the two owners of the tanks – Dangødning and Nagro – to have the environmental report prepared.
A dangerous situation
Frederica Municipality general counsel Henrik Melchior Olsen said the municipality will now take a closer look at the report.
"We cannot say more about the case until we have studied the report carefully," he said.
The large fire occurred when a tank with liquid fertiliser collapsed for unknown reasons. The collapse damaged neighbouring tanks, causing the oil leak. The oil then caught fire. Nearby residents were evacuated at the time due to the risk of explosion.