General
What's on TV (Nov 25-Dec 8): The shock doc you'll switch on and think it's real
---
This article is more than 7 years old.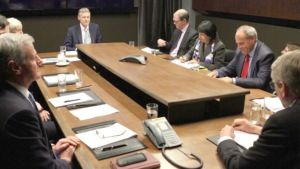 Pick of the week
World War Three – Inside The War Room
DR2, NOV 30, 23:05
The BBC's controversial docu-drama World War Three – Inside The War Room portrays Russian military involvement in the Baltic states of Latvia and Estonia.
It captures the drama and tension of the hypothetical war situation with military scenes set in Latvia cut with British strategists debating in the 'war room' on how to respond to Russia's invasion.
The film attracted worldwide attention, not least from Russia Today, which observed that Russia was portrayed as "Dr Evil Incarnate, the villain that regularly plays opposite peace-loving NATO nations."
"It was a little clichéd" the Independent concurred, adding that "the Russians were the bad guys, the UK set lots of deadlines but ultimately wouldn't commit to any action, and the US went in all guns (or nuclear weapons) blazing – but then clichés are always clichés for a reason." (IB)
Also new
Reality TV. Adultery websites. Trump. Brexit. It's as if the schedulers have said: "Enough!! There will be no more fiction, just the stark truth. And you will listen, stupid men with smartphones."
"Why have so few taken in the message Dawn of the Dead, in which zombiefied humans wander cathedral-like malls vainly trying to fill the existential holes in their lives with commodities?" asks the Guardian in its review of The men who made us spend (DR2, Dec 7, 19:10) – an account of how manufacturers deliberately started reducing the shelf-like of goods, from lightbulbs in the 1920s to IKEA today.
Continuing with the dystopia, we've got Ashley Madison: Sex, Lies and Cyber Attacks (DR2, Dec 6, 23:05), We are Legion: The Story of the Hacktivists (DR2, Nov 30, 00:55) and the tellingly named Stupid Man, Smart Phone (BBC Brit, Dec 1, 10:30) – a reality show with no valid reason for existing.
Elsewhere, we've got S2 of espionage series Bletchley Circle (SVT1, Nov 25, 22:50); the American Music Awards (DR3, Nov 26, 21:00) will have a purple hue; We want our country back (SVT1, Dec 1, 22:45) investigates the right-wing English political party Britain First; and Pointless host Alexander Armstrong takes us around the Arctic Circle in Land of the Midnight Sun (DR2, Dec 3, 20:00). (BH)
Coming soon
Our four recommended series this issue all have strong female leads.
Legally Blonde meets Lisbeth Salander in Sweet/Vicious (Metacritic: 72), as a weed-dealing hacker joins forces with a vigilante sorority girl to take down campus rapists.
In Good Girls Revolt (65), the three leads are female researchers in a newsroom paid considerably less than male counterparts they regularly out-perform. During filming, it emerged their male co-stars were paid more than them … We're joking!
And in Search Party (78), a woman becomes obsessed with tracking down an old college pal. "If you've ever wondered why all your friends are self-important sociopaths, Search Party maybe the show you've been waiting for all your life," said Reason.com, a website for sociopaths apparently.
Finally, the new Netflix series The Crown (81) about Queen Elizabeth II is so brilliant, you'll seek out the negative reviews to have a good laugh at how badly they got it wrong. Hold your head in shame, Time! (BH)
Sport of the week
Lewis Hamilton has done brilliantly to take the F1 season to the final race, but you can't help thinking he will need team-mate Nico Rosberg's car to malfunction for him to win the title. Elsewhere, Chelsea vs Tottenham is the pick in the EPL (3+, Nov 26, 18:10), we've got plenty of NFL (3+, Nov 27 & Dec 4, 22:10), NBA (every night, TV2 Sport) and Champions League (3+, Dec 6-7, 20:00) action. (BH)
Film of the week
Coming-of-age dramedy The Way Way Back (DR3, Nov 30, 22:00) and time travel yarn About Time (SVT1, Nov 26, 22:30) are safe bets if you're looking for family entertainment, but come with a feeling you've already seen better elsewhere. In the case of What to expect when you're expecting (TV3, Dec 7, 21:00), it was entire series of both Friends and Coupling. (BH)