News
Famous Danish furniture designer dies
---
This article is more than 7 years old.
Jens Risom passed away seven months after celebrating his 100th birthday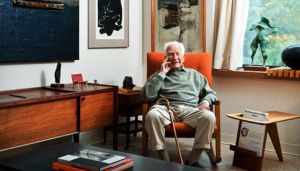 The Danish-born design icon Jens Risom died on December 9, seven months after celebrating his 100th birthday.
Widely esteemed for his elegant furniture for both the home and office, Risom was regarded as one of the 20th century's greatest designers in his field.
He has been featured in many fashion and architecture magazines worldwide, and in 1996, he received the Danish Knight's Cross from Queen Margrethe II.
Before WWII, Risom moved to the US where he met Hans Knoll and designed most of the pieces in Knoll's debut 1942 furniture collection, including the iconic chair made from cedar wood and parachute straps.
READ MORE: Danish table breaks world auction house record
Chair in the Oval Office
In May 1946, the Dane launched his own company, RSD, and began introducing Scandinavian-designed home furniture to the American market, but later he concentrated on designing for offices, hospitals and libraries.
In 1961, he was featured in Playboy along with five other star designers, and when Lyndon B Johnson became US president two years later, he chose one of Risom's executive office chairs for the Oval Office.
The legendary designer lived until his death in the state of Connecticut, where he continued working into his twilight years.