News
The Copenhagen tours using this map visit Chlamydia Castle and the Hipsterlamic State
---
This article is more than 7 years old.
"Controversy is the lifeblood of a project like this," says the creator of an alternative outline of the Danish capital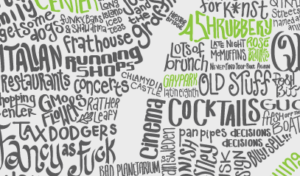 "So do you fancy going to Chlamydia Castle for New Year's Eve?"
Few Copenhageners will require further information. This night will end up in A&E or with a STD, or both, but what happens on New Year's Eve, stays on New Year's Eve, right?
But for outsiders, there is now a handy map that pinpoints the exact location of the castle.
Judge a hood by its brothers
"Most youngsters in Copenhagen will immediately know Chlamydia Castle as Søpavillionen – a venue infamous for its putative clientele of loose predatorial cougars!" enthused British designer Barrington Russell, the creator of the map, which he has christened 'Judgemental Copenhagen'.
Drawn entirely in black and green ink, the map represents the Copenhagen we all know, but with far more insight than before, as the roads and green spaces have given way to apt descriptions of the many different areas that make up the city.
Crafted by Canadian artist Christina Carrigan, Russell spent months researching the project under the guise he was doing a 'socio-geographical linguistics project'. Of course, eight years living here had already established some solid groundwork.
The Metro masher
You might recognise the name, as this is not Russell's first Danish-related map.
A few years ago, his company MetroMash translated Copenhagen's S-train map – Klampenborg, for example, became Sloppy Castle, while Farum was reworked as Dadspace – and it really caught the public's imagination, both Danes and internationals.
After an initial print run of 100, it has ended up selling thousands. Oslo and Stockholm editions soon followed and it is now a thriving business that has swapped Russell's basement for a warehouse.
Controversy is the lifeblood
"The S-train map was quite ridiculous, so this one had to be even more outrageous since when people are furious, they talk – and that's good for us!" contended Russell.
As well as the Chlamydia Castle, there is plenty to offend. Brian and Bettina, the Danish equivalent of Sharon and Wayne, have their own area, as does the 'So-called Hipsterlamic State'.
But overall a lot of thought has gone into the map, and it's fun trying to work out the various references, from 'Call me Ishmael' (clue: it's the opening line of a book) to 'No Defence Whatsoever' – a tribute, Russell explained, "to the extensive remodelling the British Royal Navy did to the city in 1807".
"Controversy is the lifeblood of a project like this, after all," he continued. "No abductions so far."
And apparently there's a typo in Amager – the question is can you spot it.
Sky-high ambition never faded
Russell, meanwhile, is mapping out quite a future. He has just co-founded a company that is building an electronic signature platform, and he is also the artist 'LoPoCo' who makes the low-poly Copenhagen illustrations at lopoco.tumblr.com.
Just this year, he completed his first mobile game, 'Conduct THIS!' (conductthis.com), in which "players have to control maniacally errant and explosive railway trains". It is currently #6 on the US app store charts.
It might not be what he always dreamed of, but you can't have everything.
"It's not quite how I imagined life would be after attempting to pursue a career as an airline pilot, but they always say: 'It's better to be down here wishing you were up there, than up there wishing you were down here,' so I take solace in that."