News
News in Digest: Denmark still very much on Britain's radar
---
This article is more than 6 years old.
Find out why the BBC is concerned about Denmark and the real reason why Mikkeller might be launching a Rick Astley beer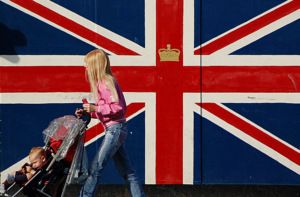 First it was 'The Killing' and Nordic Noir, then 'Borgen' and Nordic cuisine, and now it's hygge and the Nordic outdoors. These days anything with a Danish pulse is reported with gusto over in Britain, and the festive season was no exception.
Paid to fight for IS
The country's right-wing media couldn't resist an Ekstra Bladet shock-horror exclusive shortly before Christmas, which revealed that 36 Islamic State fighters have continued to receive unemployment benefits whilst fighting in Syria and Iraq.
While 34 were on kontanthjaelp, two were receiving dagpenge, causing the Daily Express to observe that "Denmark runs one of the world's most generous unemployment insurance systems, with those on the dagpenge scheme receiving receiving £92 [805 kroner] a day for up to two years."
The Daily Telegraph was alarmed to note that "so far only one of the cases has been reported to the police for benefits fraud," adding that "Denmark is not the only country where welfare authorities have inadvertently paid for its citizens to fight for IS."
Thinking of our poor children
The BBC is also concerned about Denmark. After all, it's not like Britain's got anything to worry about.
A piece published on its website on December 30 asked "Can Denmark's generous childcare system survive?" as if this might be the beginning of the end of all the country's quality drama, food and design.
But despite the alarmist question, it would appear it can. Childcare institutions are cheap, the BBC revealed, but the taxes are high enough to pay for them, which is further bolstered by all the working mothers. Phew!
But hang on! Cutbacks are threatening the system, and calls are afoot to slice the top tax bracket. Will this lead to the childcare system dying, asked the BBC. No, it concluded after an arduous journey around  Værløse.
Ruined with a view
Nobody at the Times could apparently see the irony that Bestseller's Danish owner Anders Povlsen, who recently overtook the British queen to become the second biggest landowner in Scotland, is not a fan of wind energy.
The billionaire has reportedly launched a  judicial review to stop a wind farm on an estate neighbouring one of his, which "threatens the view from his land". What? All 200,000 acres?
Expert AWOL as MØ goes MIA
The Daily Mail's Danish expert must have been on holiday as it failed to notice a translation issue in singer MØ's excuse for pulling out of a performance at the Falls Festival in Australia.
"Over Christmas I was struck with pneumonia," explained the star in a statement. But as anyone who lives in Denmark knows only too well, 'pneumonia' means 'heavy cold with a cough'.
Of course, we could ask to see the doctor's note, but given the number of fraudulent ones issued to our disgruntled employees over the years claiming they were too 'stressed' to work … we'd need more convincing.
The DM, being a family newspaper and all, also neglected to add that MØ was "crazy fucking upset to be missing the festivals and shows".
The Biers are getting 'em in
This week the British media have gone to town on the tale of Tiger and how a Danish photographer made a mint by taking the Danish discount shop to the UK.
Banking on the British being cheapskates just like the Danes, Philip Bier and his wife Emma remortgaged their home to found the first British shop in 2005.
Other franchise holders emerged and 90 more shops followed. A decade later, sales totalled £62 million (542 million kroner), with the Biers sitting pretty on a 50 percent stake in the Tigers in London and southeast England – some 44 stores.
And now they have sold it back to the parent company.  It just goes to show that everyone likes a success story – particularly when it means we can all continue buying children's birthday presents for next to nothing.
Never gonna sip/throw you up
Also in the news this week, singer Rick Astley – a resident of Denmark for many years, where he helped raise his daughter – has confirmed he is working on a beer with renowned Copenhagen brewer Mikkeller.
It might sound like an unusual move from the trendy craft beer manufacturer given the reputation of Rick's hit song 'Never Gonna Give You Up', but presumably Mikkeller is eyeing a gap in the burgeoning beer and cheese market.
You say hello, we say goodbye
And finally, British celebrity magazine Hello! can't get enough of the Danish royals, and its latest addiction is the twins Prince Vincent and Princess Josephine.
In an article about their "most precious sibling moments" that was in danger of being dwarfed by the photo credits, we learned that the "twins deliver the adorable every year".
Trust us, you don't want to see the photos, because that will involve navigating the homepage and inner-thoughts ranging from "She's never!" and "He's not" to "Who for the love of Satan placed David Guest and Paul Daniels in the same photomontage as Prince and David Bowie?"