News
Snakes on a boat! Norwegian customs officials find boa constrictor on ferry arriving from Denmark
---
This article is more than 6 years old.
Its purchase was legal, but its importation illegal, say the authorities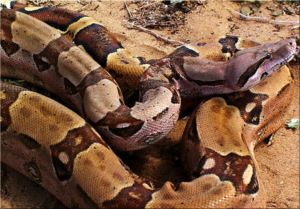 Norwegian customs officers on Sunday night found a snake in a car on a ferry that had just arrived from Denmark.
The boa constrictor was discovered in a clothing bag during a routine inspection at the port of Kristiansand.
The three young men in the car all hailed from Rogaland, a province in southwestern Norway, according to the Norwegian newspaper Agderposten.
Legally purchased in Denmark
Although a 21-year-old admitted he had purchased the boa constrictor legally in Denmark, it is illegal to bring them into Norway.
"The customs officers who examined the car had no great desire to pick up the snake and measure it," customs chief Helge Breilid told Agderposten.
READ MORE: Live snake found in Copenhagen supermarket toilet
All animals illegally imported into Norway tend to be euthanised. It will be left up to the Norwegian Food Administration to determine the snake's fate.