Things to do
Vinterjazz: jazz goes to church
---
This article is more than 6 years old.
Jazz gets back to its religious roots with a series of church concerts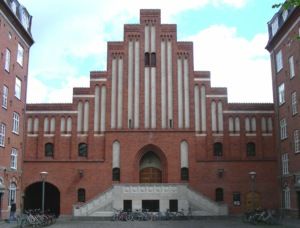 Historically, jazz has always had connections with the church
In the late 1960s, Duke Ellington wrote and performed music for a series of 'sacred concerts', and spirituals have been part of the jazz vocabulary right from the start.
Vinterjazz has brought jazz back to the church – literally – by including concerts performed in churches in the Copenhagen area in the programme. Below are some of the highlights.
Brorsons Kirke is hosting six concerts during the festival. Sunday 5 February features a jazz service, which includes Henrik Gunde (piano), Mathias Heise (harmonica), Esben Eyermann (bass), Jesper Uno Kofoed (drums) and Janne Mark (vocals). On 24 February you can hear (and see) Lars Greve (sax), Aske Zidore (electronica) and the dancers Karis Zidore and Nanna Stigsdatter.
Christians Kirke will be presenting five concerts. On 5 February a quintet with Graig Earle (bass), Emil Hess (saxes), Richard Huntley (drums) and Thomas Clausen (piano) and on 19 February, Emil Hess (saxes) and Nikolaj Hess (piano) will join the vicar, Flemming Pless, in a jazz service.
Frihavnskirken is showcasing its fine acoustics to present three solo concerts performed on the church organ. On 23 February you can hear Nikolaj Hess, on 24 February August Rosenbaum and on 25 February Carsten Dahl.
At Kastelskirken on 12 February, pianist Jeppe Zeeberg will be casting a new light on the Danish hymn book, with improvisations based on hymns played on the church organ. Admission is free.
Koncertkirken is presenting a whopping 18 concerts during the festival! Their eclectic mix includes Medieval jazz with Josefine Cronholm, Ida Bach Jensen and Agnethe Christensen on 6 February, Lotte Anker, Chris Cutler and Lars Greve on 8 February, the six-person percussion ensemble G Bop Orchestra on 22 February and the lyre and percussion trio Ross Daly, Kelly Thoma and Zohar Fresco on 26 February.
American singer/songwriter Jonatha Brooke can be heard in a duo format at Luther Kirken on 3 February.
So, maybe time to rediscover your religious roots?