News
Dane celebrated in Japan 60 years after high-sea heroics
---
This article is more than 6 years old.
Johannes Knudsen made the ultimate sacrifice off the coast of Wakayama in 1957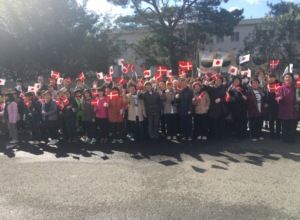 There's probably not too many Danes who are familiar with the name Johannes Knudsen. But in the little Japanese village of Gobo in the prefecture of Wakayama, his name has gone down in history.
Today the locals were out in force at Hinomisaki Park near Gobo, just south of the city of Wakayama at a memorial service for the Dane who paid the ultimate price for a selfless act 60 years ago to this day.
Denmark's ambassador to Japan, Freddy Svane, was also present to take part in the memorial service.
"Touching ceremony in Mihama and Hidaka to celebrate memory of bravery of Knudsen," Svane wrote on Twitter.
READ MORE: Wakayama Roligans: Denmark's biggest fans abroad
Domo arigato, Johannes
On 10 February 1957, Johannes Knudsen wrote himself into Wakayama hearts and history. The Dane was on his maiden journey as the chief engineer on the Maersk-owned ship Ellen Maersk, when the tanker spotted a small Japanese fishing boat ablaze off the coast of Wakayama.
The Ellen Maersk lowered a ladder to save the fisherman, but he was too exhausted to climb up. Knudsen instead climbed down to fetch him, but unfortunately both he and the fisherman ended up losing their lives.
There is still a bronze statue of Knudsen in Hinomisaki Park commemorating his heroism that day all those years ago, and the Danish link has fostered a close relationship between the citizens and Denmark over the years.
For instance, one the most famous Danish football fan groups abroad, the Wakayama Roligans, hails from the region.