News
Danes have best queuing manners in Scandinavia
---
This article is more than 6 years old.
Just 22 percent of Danes admit to trying to skip the line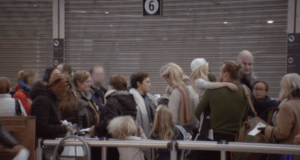 It may sound odd to those who have tried queuing for a bus or at a shop in Denmark, but according to a report from Scandinavian airline SAS, the Danes have the best queuing manners in Scandinavia.
The SAS report, compiled by Infomedia using statistics from the Norstats online panel, just 22 percent of Danes admit to having tried to skip to the front of queues at airports – well below the percentage of Norwegian (40) and Swedish (47) queue culprits.
"Most people know what it's like to be in a long security queue. It's hot, you're carrying bags and jackets, and you become impatient," Mariam Skovfoged, the head of communications for SAS in Denmark, told Check-in.dk.
"If you don't have access to Fast Track, and you don't have the time or patience to stand in the queues, then there is just one alternative: sneaking ahead in the queue. And our survey shows that it's not a popular solution."
READ MORE: Copenhagen Airport to open express security check for domestic passengers
Moscow musings
The survey also revealed that it is usually those who travel the most who are the worst queue villains. In Denmark, 30 percent of all those who travel five times or more during the year try to sneak up queues, while it's even worse in Sweden (60 percent) and Norway (47 percent).
Or perhaps it's just that the Swedes and Norwegians are a little more honest with their queuing habits. Perhaps they should go to the Metro in Moscow during rush hour for some therapy (see below).