National
Danish state broadcaster pulling plug on popular radio program
---
This article is more than 6 years old.
Café Hack closing over financing scandal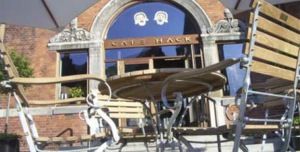 The Danish national broadcaster has announced that its popular Sunday radio program 'Café Hack' has been cancelled with immediate effect after it was revealed it had been receiving backhander payments from broadcast venues.
SK Productions, the company that produces Café Hack for P4 of which the show's host Søren Dahl is a co-owner, has demanded payment from several locations around the country where the program has been broadcast away from its usual spot at the eponymously-named Café Hack in Aarhus Theatre.
Demanding money from locations to host the program is a violation of DR's guidelines.
"It is a serious matter for everyone involved when we need to end a collaboration with a production company we have worked with for a great many years. But there is no other choice," said DR Radio head Gustav Lützhøft.
Double-dipping
Café Hack was well-known for its summer tours, broadcasting live from all over Denmark. According to an investigation conducted by radio station Radio24syv, SK Productions asked for money from many broadcast sites between 2013 and 2016 – a clear violation of DR's rules concerning hidden sponsors.
The total amount of extra fees paid is well over 1 million kroner and probably well over 2 million.
"There is no doubt that during the production of summer versions of 'Cafe Hack' that SK Productions has violated DR's guidelines by collecting money from each site," said Lützhøft.
DF's media spokesperson Morten Marinus wants SK Productions to pay back the money it collected and has urged the Ministry of Culture to ask DR for clarification on all its outsourced programs.
Not the first time
Radio24syv contacted each of the 36 destinations that Café Hack visited during their summer broadcasts from 2013 to 2016. The 15 that replied said that they paid a collective total of 1,162,548 kroner to expose their locations to the program's approximate 1 million listeners.
Four locations did not disclose how much they paid, while five claimed that no money changed hands. The other 10 locations did not respond to the inquiry.
READ MORE: Watership Downed: radio station defends bunny slaying
Café Hack was involved in a similar case in 2008 when Roskilde Municipality was offered a visit from the program for a cool 175,000 kroner. DR's then radio boss Ole Mølgaard put the kibosh on the deal and reminded Café Hack that DR does not accept sponsorships.