News
Beet it Denmark! Soon you can have an organic sweet tooth
---
This article is more than 6 years old.
Danish beet farmers increasingly interested in growing organic sugar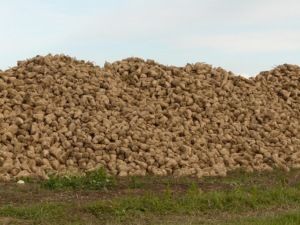 The public appetite for all things organic continues to grow. Soon it will be possible to buy organic sugar grown from Danish sugar beets, Bo Secher, the chief consultant at Nordic Sugar, tells DR News.
READ ALSO: Danish supermarkets battle for organic food consumers
"As recently as today we've had further acreage being given over to organic cultivation, so it keeps going forward."
A rush to convert
The Gefion Agricultural Society has been holding meetings for sugar-beet farmers on Lolland and Falster and has had considerable success in persuading them to convert to organic farming.
"Normally, we recommend converting to organic in the summer, but there are a lot of farmers who want to get going as soon as possible, so they will start converting in the spring in order to be able to deliver organic sugar beets in 2019," explained Gefion's organic consultant, Steffan Blume.
There's good money in it too
It is not only idealism that has tempted the farmers. From April 1, Krenkerup Farm on Lolland has set aside 210 of its 1,800 hectares to grow organic produce, including sugar beets. Nordic Sugar pays almost twice as much for organic beets than it does for non-organic.
"There's no doubt that the offer that they made us – which gives us double the price for the first two years, and when we are truly organic, almost triple the price – has been the deciding factor in us deciding to grow sugar beets again," said Søren Jespersen, the manager at Krenkerup Farm.
The first organic sugar beets will be harvested already this year, but when they end up in the shops is less certain. Secher estimates "perhaps in 2017, maybe a year or two after".
Nordic Sugar would also not speculate on how much Danish organic sugar would cost compared to the sugar that is today imported from Central America.