News
Danish university integrating solar energy panels into the fabric of our lives
---
This article is more than 6 years old.
High hopes for potential of placing organic cells in the walls of buildings, gadgets and even textiles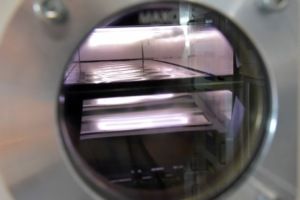 When one thinks of solar technology today, a collection of large, blueish panels in the middle of an otherwise-empty field comes to mind.
But the future of solar technology may not be visible but rather integrated into the walls of buildings, gadgets and even textiles.
Panels like paper
Researchers at the Sønderborg campus of the University of Southern Denmark are developing flexible solar panels based on organic, carbon-based materials, as opposed to standard silicon materials.
"You can imagine solar cells that are basically like paper; very thin, very lightweight, and you can bend and fold them like you can with paper," explained Morten Madsen, the leader of the project.
"And the new thing for us here is you can also print them … using a roll-to-roll technique."
The research has been conducted by faculty members, PhD students and postdocs, Madsen added. SDU is also partnered with a Danish company, a German company and a German university on the project.
The project has been partially funded by the European Union, which has contributed 12 million kroner.
A lot of work ahead
SDU has been carrying out research on organic solar cells for some time, and it is working to advance the technology so it is as stable as traditional silicon solar cells.
Silicon solar cells are also more effective at converting energy, but Madsen believes he can still see a spot for organic solar cells on the market.
"From a design perspective or designer perspective, I think there is a lot of potential because, usually, designers of architecture aren't too fond of silicon solar cells," he said.
"You can make [organic solar cells] more easily to have the expression you want them to have."
Within the next three to five years, Madsen envisages the technology being incorporated into smaller, niche products, such as textiles.
On a larger scale, the solar panels could follow the contours of a building without people being able to localise them.
Passionate about the project
Organic solar cells have already been produced by companies around the world, according to Elodie Destouesse, a postdoc researcher on the project.
But in the university's setting, she added, they have researched how to produce the panels on a larger scale and how to best integrate the technology.
Researching the new technology is a passion of Destouesse's.
"You want to make your work better for something that could help the planet," she said.
"It's renewable energy, and we are trying to make something clean."
A piece of the jigsaw
Destouesse revealed that she was asked, while being interviewed for a job at a company making organic solar cells, whether she thought the technology was the solution to global warming.
"My answer was no. I don't think that's the solution, because I think we need all technology to overcome this problem," she said.
"Silicon is also nice in its way, wind power is very nice too, and I think if we combine all of this technology and everybody is also working on registering the energy consumption [, there could be a solution]."