Community
About Town: Fast and furious month for the dignitaries
---
This article is more than 6 years old.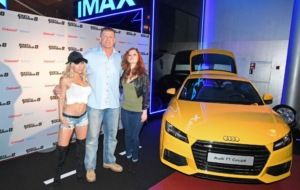 Muscular bodybuilder/actor Kim Kold was one of the guests of honour at the premiere of Fast & Furious 8 owing to his appearance in the sixth instalment.
---
The Royal Society of St George Denmark held a celebration at Peter Liep's Hus in Klampenborg. Among those present were society president Simon Mears
---
And Egyptian ambassador Salwa Moufid (above in black) hosted an International Women's Club charity lunch to raise funds for the Aswan Heart Center in southern Egypt at her residence on Strandøre in Østerbro on March 23.