News
Getting inked can seriously damage your health claims expert
---
This article is more than 6 years old.
What might seem like a good idea after a boozy night out with friends on Ibiza might just end up causing cancer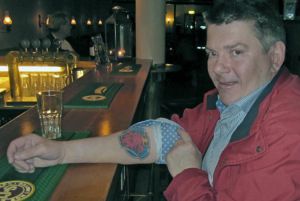 Once seen as the badge of honour of sailors, servicemen, prisoners or gang-members, tattoos have become increasingly mainstream over the last couple of decades.
Figures from a recent YouGov survey for Metroxpress show that an increasing number of Danes are getting tattooed. In 2009, 12 percent of Danes had at least one tattoo, and today that percentage is up to 20.
However, perhaps you should think before you get inked. Yael Adler, the author of a book entitled 'Under the skin', calls tattoos "ticking poison-bombs". He has seen plenty of people in his clinic in Berlin who have had adverse reactions to body art – even some who have developed malignant melanomas.
READ ALSO: Government inks new tattoo law
"These days, we are exposed to so many kinds of toxins and it is difficult to say which of them might cause cancer or diseases of the immune system," said Adler.
"Once the colours have been injected under the skin, they never come out again. None of our organs can break down these colours and they can contain all sorts of toxins and heavy metals."
Don't do it unless you have to
Jørgen Serup, the head doctor who runs the tattoo clinic at Bispebjerg Hospital, agrees the safest thing is to avoid having tattoos, but points out that for many people they perform an important social function.
"Those who want a tattoo often don't care about the health risks because they are so motivated to get one. That shows how much it means to them," he said.
He is, however, more sanguine that Adler regarding the risks: "Compared to skiing, running a marathon or motorcycling, which people also do because they want to, a tattoo is not especially risky."
He does suggest, though, that anyone contemplating being tattooed should check whether they have a particularly high risk of complications before going through with it.