News
Construction plans in Greenland with growth potential in Denmark
---
This article is more than 6 years old.
Greenland's capital city has ambitious plans for expansion which could provide jobs for Danish companies and workers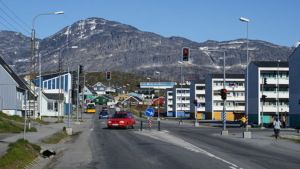 Over the next eight years, an extremely ambitious building program in Nuuk could see the construction of 2,500 new houses, 20,000 sqm of business premises, three new schools, ten pre-school institutions, an art gallery, an indoor stadium and a kilometre-long tunnel.
The budget for the work has been set at around five billion kroner.
"Nuuk is growing and attracting a lot of new people. It is also a capital city. That's why we need to expand the town," Asii Chemnitz Naru, mayor of Nuuk, told DI Business.
READ ALSO: Bjarke Ingels to design new football stadium in Greenland
Plenty of room for all
She hopes that the development project will persuade more Greenlanders not to move abroad but also that young Greenlanders who have gone abroad to educate themselves will come back home again.
"Today there are 56,000 inhabitants in Greenland but I don't see why we can't reach 75,000. We're a big country, the mayor said.
Lots of jobs
Several Danish companies have expressed great interest in the project. Amongst them is the construction firm MT Højgaard.
"This is a really exciting project that has the potential to create a lot of jobs," Jonas Nicclassen, divisional head of the company, said.
At the moment, negotiations are still going on regarding who will put up the five billion kroner for the project.