InOut
Bank Holiday Weekend's Coming up Soon: Carnival girls, Copenhagen's time machine and Corbyn in our prayers
---
This article is more than 6 years old.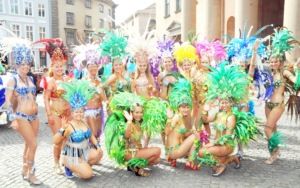 Summer looms, and the Danish working calendar slings bank holidays with generous abandon.
With a sudden glut of extended weekends, Danes like to capitalise on this surplus free time by throwing a number of festivals, parades and public events.
Filling every corner of Copenhagen and nearly every hour of the clock, the coming weeks promise a bounty of weekend activities to choose from.
Copenhagen Carnival
June 3-4; venue and times vary; karneval-kbh.dk
The steel drums, costumed dancers and curbside revelry of Rio de Janiero's famous Carnival fill the streets of Copenhagen this weekend, offering a vibrant mixture of parades, live music and street food for all. Since its beginning in Copenhagen in 1982, the festival has been known to bring in as many as 100,000 spectators each year. Saturday's parade begins in Kongens Nytorv and snakes along Strøget, and world music performances as well as children's events continue all weekend. Tickets to the main venue cost 50 kroner. Check online for more info and a complete schedule at karneval-kbh.dk.
Copenhagen Middle Ages Market
June 2-5; Valbyparken; 100kr; kmm.dk
Annual one-stop-shop for quartz jewellery, mead and full-contact Medieval combat tournaments. Four-day festival in Valbyparken with programming for all ages – shopping, crafts and Medieval/viking-era sporting events, such as melee skirmishes and jousting.
Prayer Service For British Election
June 5, 16:00, St Albans Church, Churchillparken, Cph V; st-albans.dk
The British members of St Alban's Church, located in Churchillparken and across from Kastellet, will be holding a service of prayer for the coming UK election.
CPH Stage
ongoing, ends June 11; venues and prices vary; cphstage.dk
This 12-day festival draws performance artists from across the globe to Copenhagen for a city-wide celebration of theatre, music and stage arts. With over 50 shows in English (and 70 more in Danish), CPH Stage builds on four years' experience to deliver a rich celebration of the international arts.
Hillerød Town Festival
June 9-11; Hillerød; slotssøbyfest.dk
Hillerød's annual city festival takes on new energy this year, as will also mark the 400th birthday of the lavish Frederiksborg Castle. Tour the castle and gardens, enjoy live music and grab some street food with the whole family during this three-day celebration.
Copenhagen Photo Festival
ongoing, ends June 11; various venues, where admission prices vary; copenhagenphotofestival.com,
Entering its eighth consecutive year, this festival brings together photographers from across the world to Copenhagen for a varied blend of exhibitions, lectures and workshops. This eleven-day event will inspire, improve and foster the photographer in everyone.
Hamlet Live
ongoing, ends Aug 31, open 10:00-17:00 daily; Kronborg Castle, Helsingør; 150kr; kongeligeslotte.dk,  
One of Shakespeare's greatest works comes to life within the very walls of Kronborg Castle, home turf of the ill-fated Prince Hamlet. This summer, costumed actors depict key characters from Shakespeare's Hamlet and will guide Kronborg visitors through the historic chambers where the story took place.
Copenhagen Dance Festival
June 16-18; Teglholmsgade 27, Cph SV; cphdancefestival.dk
Dancers, musicians, food trucks and entertainers converge on a spacious factory hall by the harbour for a three-day celebration of everything to do with dance. Performance, competition, concerts and workshops await for all in attendance.