News
Danish brewery Mikkeller raises eyebrows with new LGBT beer
---
This article is more than 6 years old.
Mikkeller not afraid to step on toes with IPA depicting Putin and Trump making out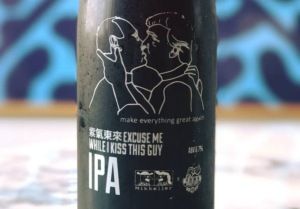 It seems that aside from producing excellent beer the Danish brewery Mikkeller is in possession of a sense of humour as well. And it's not afraid to ruffle some feathers for a good cause.
In collaboration with the Chinese microbrewery Great Leap Brewing, Mikkeller has come up with a beer that may very well irk certain beer drinkers in Russia and the US.
In support of the embattled gay community in Chechnya, its limited 'Excuse Me While I Kiss This Guy' IPA features a label image depicting Russian president Vladimir Putin making out with his US counterpart Donald Trump.
"Only four bottles (out of 120 in total) will go on auction with 100 percent of the proceeds going to the Russian LGBT Network in support of Chechen gay rights – this is an IPA that makes an impact!" Mikkeller wrote on Facebook.
"Stay gay (and thirsty)! ❤️ – with Vladimir Putin,Donald J Trump and Great Leap Brewing."
READ MORE: Mikkeller opening new bars abroad
How very Vilnius
The image of the presidents smooching was likely inspired by a famous mural that was put up on a café wall in Vilnius, Lithuania about a year ago after it became known that Trump was running for office.
The mural in turn was partly inspired by an actual kiss shared by Soviet leader Leonid Brezhnev and Erich Honecker, the president of East Germany, in 1979 (below, image: Don Ludwig).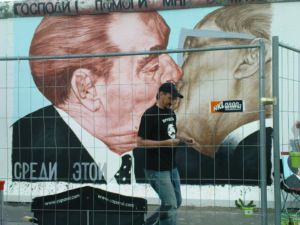 While the title 'Excuse Me While I Kiss This Guy' is a misheard lyric, or at least one that has generated a fair amount of debate ('kiss the sky' was probably the original line), in the Jimi Hendrix song 'Purple Haze'.
While the new beer has attracted much approval, Mikkeller's has already seen some criticism on its Facebook page, with one individual urging the brewery to stick to making beer and not meddle in politics.
To which Mikkeller responded: "Duly noted – respectfully ignored."
Beer and human rights connoisseurs hoping to get hold of one of the contentious beers will have a tough time of it. According to Mikkeller, the remainder of the 120 bottles were handled by Great Leap Brewing and are all sold.