InOut
Roskilde Festival 2017: Our Top Five Concerts
---
This article is more than 6 years old.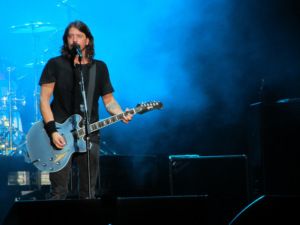 The torrential rain did its best to sink Roskilde Festival 2017.
But it hadn't reckoned on the sawdust, suction and sheer gumption of those on stage and in attendance.
For those who stayed to the end, it was a case of we came, we saw, we conquered.
Here are our Top Five Concerts from this year's event.
1 Nas: Orange, June 29
At his best, New York rapper Nasir Bin Olu Dara Jones, aka Nas, was irreproachable on the Orange Stage. At his worst, he was illimatic – beyond it even, following in the footsteps of another great band to guest the same stage earlier in the evening, The xx. Nas showed the world what modern day hip-hop lacks, with a masterclass 1990s take on the genre.
Beyond Illimatic – Nas gives festival a lesson in hip-hop
– read our review of Nas' show
2 The xx, Orange, June 29
The xx are headlining many festivals across Europe this summer and with good reason – they are one of Britain's best exports and some would go as far as calling them the hottest band around right now. Theirs was a genuine, heartfelt performance, replete with style variations akin to legendary British acts such as Faithless. Brexit may be isolating Britain politically, but musically the isle remains a class act, epitomised in no small part by a band of the calibre of The xx
3 Digable Planets, Avalon, July 1
In the absence of a Tribe Called Quest, the post of standard-bearer for old school hip-hop's bastion was up for grabs. Nas may have hogged the plaudits for this year's rap act, but rivalling him for top honours were Brooklyn trio Digable Planets, who took us down memory lane with seldom seen swag.
West coast heavyweight Ice Cube, billed as A Tribe Called Quest's replacement, also delivered some epic moments in his show on the Orange Stage, but Digable Planets and Nas were both far more down to earth and likeable in their approach, so the former misses out on this reviewer's list
4 Foo Fighters, Orange, June 30
Foo Fighters were this year's Roskilde rock act du jour – guesting the Orange stage with THE rock presence some punters may have missed from 2017's line-up. Their lead singer and former Nirvana drummer Dave Grohl was at his  best – pummelling one memorable tune after another onto a partisan crowd. The Foo Fighters had 'the best, the best, the best' of everything in their performance.
5 The Weeknd, Orange, June 28
Canadian R&B act The Weeknd illustrated why he is more than just a chart-topping musician. Despite a poor start, Abel Makkonen Tesfayese's antics wooed the audience unlike any other show at Roskilde. Performing to a massive crowd consisting of the young, the old and everything in between, The Weeknd's sing-along moments will go down as some of the most epic of this year's event.
READ MORE: More than something for The Weeknd –
read our review of The Weeknd's show