News
Danish women footballers outperforming men but remain inferior, contends female priest
---
This article is more than 6 years old.
Upwards of a million Danish viewers are expected to tune in tonight as Denmark seeks to reach its first major final since Euro 1992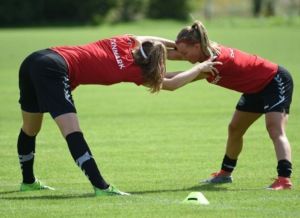 An expected audience of a million people will be glued to their televisions from 18:00 today as the Danish women's football side kick off their semi-final against Austria in Breda, the Netherlands. The match is being broadcast on TV2.
But while their involvement won't end in the armchairs, as pundits are predicting a surge in the number of girls and women taking an interest in the sport and playing themselves, a female priest has argued they should never expect equality.
Embarrassing and slow
Speaking on the DR2 current affairs program 'Deadline' last night, Sørine Gotfredsen, a priest, author and journalist, said that well-meaning politicians weren't helping by demanding equal pay in a sport that has historically been dominated by men.
"Football has always been a men's sport, and it will certainly be for a very long time – probably always," she argued in a debate also featuring Karen Melchior, a 2017 municipal election candidate for Radikale party in Copenhagen.
Gotfredsen described a series of recent adverts (see below) promoting the rights of women footballers as "embarrassing", and she also rubbished their slowness – particularly the reaction time of female goalkeepers.
Denmark slight favourites
Nevertheless, 610,000 tuned in towards the end of the 2-1 quarter-final victory over Germany, despite the game kicking off at midday on Sunday, and offices, locker rooms and bars are buzzing in anticipating that Denmark could reach its first major final for 25 years.
Austria won 4-2 the last time the sides met – not even a month ago in Wiener Neustadt on July 6 – but Denmark are marginal 6/4 favourites to advance.
Nevertheless, neither side is tipped to win the title, with bookmakers (see below) strongly expecting the winner of the other semi between England and the Netherlands, whose last four showdown kicks off today at 20:45, to lift the trophy.