News
Danish News in Brief: Lousy summer weather no deterrent to tourists
---
This article is more than 6 years old.
In other news, Danish rapeseed fields contributing to bee deaths, bluefin tuna sells for record auction price, and Denmark pledges 3 million kroner to UN Global Compact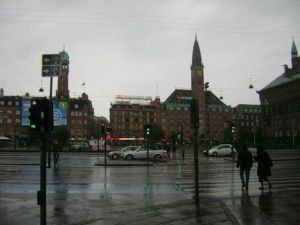 This year, the Danish summer has been more of a case of raincoats and wellingtons rather than bikinis and buckets and spades, with temperatures under 20 degrees and plenty of heavy showers.
However, this does not seem to have deterred foreign tourists from visiting Denmark, DR Nyheder reports.
Novasol, one of the largest renters of summerhouses in Denmark, has had a really good year, with the number of foreigners staying overnight increasing by 1.4 percent from January to May 2017 compared to last year.
Phew what a scorcher! Not!
Novasol's sales director, Philip Kildegaard, explained that "Denmark is a so-called cold water destination. You know that it's not a Mediterranean country. The approach to a holiday is different."
According to VisitDenmark, Germans are behind almost 60 percent of all overnight stays by foreigners in Denmark. They typically book summerhouses near beaches.
Sarah Lund's sweater might be useful
British tourists, on the other hand, are more interested in city holidays and come in large numbers to visit towns such as Copenhagen and Aarhus. Last year, they booked 729,000 overnight stays.
The mixture of cycling, fine buildings, Nordic living and Michelin restaurants have been widely praised in media such as the New York Times and the BBC, and there is still evidence of a spin-off effect from TV series such as 'Borgen' and 'Forbrydelsen'.
---
Danish rapeseed fields a slow death to bees, researcher warns
It would be wrong to conclude – as Denmark does – that there are no risks involved in the use of the controversial insecticides known as neonicotinoids, a British researcher says. The chemicals are used to treat seeds such as rape before they are planted. Ben Alex Woodcock from the British Natural Environment Research Council has concluded that treating the seeds this way has been the cause of bee deaths in Britain, Hungary and Germany, reports Ingeniøren. The pesticides have a negative effect on both wild and honey bees and when the bees are unhealthy to start with or are dependent on a monocrop diet, they are more likely to be affected. The bees don't die immediately but become disorientated, and so have difficulty surviving the winter.
What a whopper!
A rare bluefin tuna catch in Danish waters has fetched a record price at a fish auction. The fish, weighing in at 204 kilos, ended up being knocked down for an incredible 124,440 kroner – 610 kr per kilo – reports Fisk og Fri. The lucky buyer was fishmonger Jacob Kongsbak, who expects to be able to sell the fish whole to a well-known Copenhagen restaurant: "It could be Mash, Umami, Piinto i Tivoli or Sticks n Sushi. It could also be Cafe Victor, where they have the type of clientele who would find it exciting to eat such a large fish."
Denmark enters into partnership deal with UN Global Compact
If the UN's global goals are to be realised, the private sector has to play a much larger role. Global Compact is the primary UN platform for co-operation with the private sector and involves 9,000 companies in 170 countries. The Danish government is strengthening its engagement to the tune of 3 million kroner contributed from 2017-2020. Aid is increasingly used as a catalyst for investment, furthering the transferal of technology, innovation and solutions that deliver growth and, at the same time, concentrate on sustainability. "It's through companies that we are able to create job opportunities and sustainable growth in developing countries. At the same time, we need companies as innovative partners to develop and find solutions to global challenges such as famine and climate change," said the development minister, Ulla Tørnæs