Activities
Concert review: The Future and present of rap
---
This article is more than 6 years old.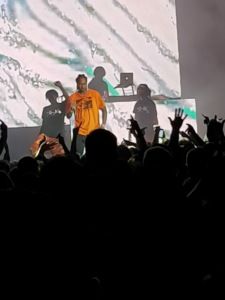 When a hip-hop megastar and one of the great influencers of his generation comes to town, hip-hop fans are going to be intrigued.
With a long catalogue of hits as a solo artist and a collaborator, Future energised a raucous Valby Hallen on Thursday night.
Going back to the Future
Future first retrod popular past projects such as 'Dirty Sprite 2', and performed chunks of songs from the projects with great authority and to the crowd's utter joy.
Accompanied by visuals that were a combination of material shot for the tour and his music videos, Future and his onstage team of talented hip-hop dancers allowed no dull moments.
Featuring Future
Future is known as a great artist for choruses, and rest assured he didn't rob his fans of a chance to hear Ace Hood's 'Bugatti' and Lil' Wayne's 'Love Me'.
He also name-dropped the Weeknd to throw the crowd into a further frenzy, before playing their collaborations.
Some of the loudest applause of the night came for songs from the Drake/Future album 'What a time to be Alive'.
Too many to choose from?
The only gripe one could have with the show was that Future catered to what he called his 'day one' fans and therefore played more underground cuts, leaving some pop smashes off the set-list.
So hits like 'Blow a Bag', and 'Turn On the Lights' were, for instance, not heard. This is a matter of taste – pure and simple.
Yet and still the house was brought down when Future took his 'Mask Off' to perform his biggest hit to date.
Best of the rest
Future was accompanied by a bevy of supporting acts and, out of the bunch, Stefflon Don had a compelling live show in her own right.
All in all, a fun night of music with one of the true faces of hip-hop.