News
Economic growth all over Denmark, new statistics show
---
This article is more than 6 years old.
GDP now higher than it was before the financial crisis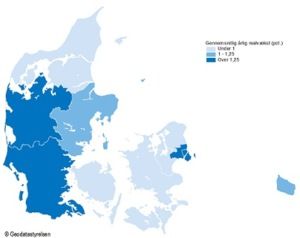 It is not only Copenhagen that is showing signs of increased economic growth. According to national statistics keeper Danmarks Statistik, there was significant growth across the whole country in 2015 and 2016.
READ ALSO: News in Digest: Economic picture ever rosier
Perhaps unsurprisingly Copenhagen led the way between 2014 and 2015 with growth of 3.5 percent, but west Jutland, Bornholm, Fyn and east Jutland also enjoyed growth rates of over 2 percent.
Umployment up
From the second quarter of 2015 until the second quarter of 2017, the number of people in employment has also gone up. In the Copenhagen area, the number of employed people rose by 5.7 percent.
In the provinces, the number of employed people rose by 4.4 percent in east Zealand and by 4.3 percent in east Jutland. The lowest figures were seen in west and south Zealand at 1.8 percent.
However, the figures are a little skewed as they are calculated according to where people work, not where they live. For example, a person working in Copenhagen but living in west Zealand contributes to GDP and the employment rate of the capital.
The analysis reveals that north Zealand has the highest income per resident, while Copenhagen has the highest GDP per resident rate.