News
Culture News in Brief: Zentropa producer under pressure from Swedish partners over groping claims
---
This article is more than 6 years old.
In other news, Björk, Rita Ora and Level 42 have all confirmed concerts in Denmark next year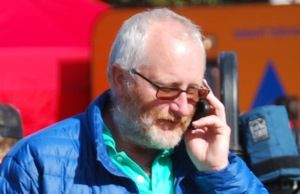 Zentropa producer Peter Aalbæk is under pressure to disassociate himself from an ongoing film project because his Swedish partners are dismayed by reports he sexually harassed a film student in the 1990s.
Nanna Frank Rasmussen, who is today a prominent film critic, told Jyllands-Posten on October 18 that Aalbæk sprayed beer on her chest and grabbed her arse at the Berlin Film Festival.
Aalbæk, who last month defended collaborator Lars von Trier against similar claims made by the Icelandic singer Björk, said it "sounded likely" as "that's part of who I am".
"If she has a problem that someone slapped her on the bum at a party 10 years ago, that's something she'll have to deal with," he added.
READ MORE: Von Trier's producer rejects Björk's sexual harassment claim
Swedish partner not impressed
However, his remarks have not gone down well with Swedish producer Film i Väst, which has said it cannot continue working on the new Von Trier movie 'The House That Jack Built' if Aalbæk is involved.
While filming in the Swedish town of Trollhättan has wrapped, it is believed that Film i Väst could withdraw its approval for the use of the footage if it is not satisfied.
"If the Swedes only want to work with Asian Social Democrats, then it's their right," Aalbæk said in response.
---
Special 25-year return … apparently
Björk will headline next year's NorthSide festival it has been announced, joining a list of participants that already includes The National, Queens of The Stone Age and Father John Misty. Various media acclaimed 'the return' of the Icelandic star 25 years after her last visit to take part in Aarhus Festuge as if it was some big anniversary. NorthSide is taking place from June 7-9.
British duo on their way over
Two big British acts have confirmed they will be visiting Denmark in 2018. Songstress Rita Ora will be playing at Vega on May 27 – tickets cost 240 kroner and go on sale today at 11:00 at ticketmaster.dk.  And British 1980s band Level 42 are scheduled to play at DR Koncerthuset on March 20. Tickets cost 350 kroner and go on sale today at 10:00 at ticketmaster.dk. From Copenhagen, the band will then travel to Tobakken and Aalborg Hallen on March 21 and 23.
New centre for Nordic artists in LA
Nephew guitarist Kristian Riis is the brains behind a new networking centre based in the US that will help promote Danish and Nordic art and culture, assisting artists from the region in getting a stateside foothold. Provisionally entitled the Nordic Culture Embassy, it has an address overlooking the Hollywood Hills in Los Angeles. "You could call it a cultural air bridge," Riis told DR. "We're creating a business plan for Nordic art, culture and design in the United States, because I think it is important that Nordic artists view their art as a type of business." Danish singer Sharin Foo, a member of the duo The Raveonettes, is among the artists helping Riis.
More songs that we were expecting
MØ has surprised the music industry by including slightly more new songs than expected in her latest release. The EP 'When I Was Young', which includes six songs, is the singer's first major release since her debut album, 'No Mythologies to Follow', in 2014. The content has been described as both danceable and melancholic.
Happy nation likes it Misérables
A list of the nation's top 50 favourite musical songs compiled by DR radio station P2 reveals that Danes either have very particular taste in the genre or that they possibly haven't seen that many musicals. While 'Les Misérables' is clearly their favourite, taking seven places in the top 50, with the song 'Bring him home' topping the rankings. The Sound of Music with five songs, The Phantom of the Opera (four), West Side Story (four) and Jesus Christ Superstar (three) completed the top five. In total, Andrew Lloyd Webber took 11 of the 50 places.
Hitman role for Mads
Mads Mikkelsen has landed himself a juicy role as an ageing hitman in 'Polar', an adaptation of Victor Santos's graphic novel 'Polar: Came With the Cold'. The Dane will play Duncan Vizla (codename Black Kaiser), who is forced out of retirement to settle a few scores. Jonas Åkerlund, a Swedish director mainly known for his work in music video, will take charge.