InOut
Concert Ticket News: Top of the range tickets at Iron Maiden concert cost 666 kroner
---
This article is more than 6 years old.
Kygo, Tyga, Guns N' Roses, Gorillaz, David Byrne, Stormzy and Fleet Foxes all coming to Denmark in 2018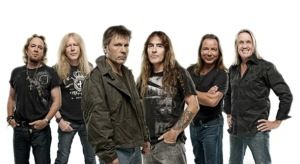 The Royal Arena continues to attract the big names to Denmark, this past week confirming performances by British heavy metal legends Iron Maiden and Norwegian performer Kygo.
Run for your life to get these tickets
Iron Maiden will be bringing its 'Legacy of the Beast Tour' to the Copenhagen venue on June 5 to promote its latest album 'The Book of Souls'. In support will be Killswitch Engage.
Tickets – which are available from 370 kroner, with the most expensive ones aptly costing 666 – go on sale on November 24 at 10:00 at livenation.dk and ticketmaster.dk.
Norwegian megastar visiting
Now an established global star, the Norwegian producer, songwriter, DJ and musician Kygo (real name Kyrre Gørvell-Dahll) is bringing his 'Kids in Love Tour' to Royal Arena on February 11. Special guests include Gryffin, Blackbear and Seeb.
Tickets cost 320-420 kroner and went on sale earlier this month.
Slash and Stormzy coming over
In other concert news, Guns N' Roses have confirmed they will be bringing their 'Not in this Lifetime Tour' to Dyrskuepladsen in Odense on June 6. Tickets went on sale earlier this morning
Gorillaz, David Byrne, Stormzy and Fleet Foxes are among 11 new names that have been added to the 2018 Roskilde line-up. The festival will take place from June 30 to July 7 and full festival tickets cost 2,100 kroner.
US rapper Tyga will be performing at Vega on February 23. Tickets cost 300 kroner and go on sale tomorrow at ticketmaster.dk at 10:00. Tyga is also performing on Aarhus – on February 22.