InOut
In between the garish tinsel, gems are waiting to be uncovered
---
This article is more than 6 years old.
One of Copenhagen's eternal festive charms is the wide range of Christmas markets that start popping up in mid-November. Some are tacky, but others offer the best shopping experience you'll have this year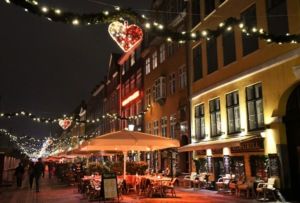 Now that Halloween has past, Christmas is right around the corner and with it lots of festive markets.
Inspired by various European cities, Copenhagen has some of the best Christmas markets, ensuring you get the most magical festive experience.
Along with the traditional Xmas markets, there are plenty of alternative markets offering unique present possibilities.
Mostly recommended
With so many options, it's hard to know which market to choose? Well, we've carried out some extensive research and compiled a list of markets that mostly come recommended.
Whether you're just visiting Copenhagen or a local, these markets are sure to instil the Danish 'julehygge' in you.
Royal Danish Academy of Fine Arts
Nov 26, 10:00-17:00; Philip de Langes Allé 10, Cph K
One of the most popular art markets is the one organised by the Royal Danish Academy of Fine Arts, School of Architecture, Design and Conservation. The school hosts a Christmas market every year that gives the students and employees a chance to sell their own works. From ceramics, prints and jewellery to Christmas-themed food and drinks, this market is the perfect opportunity to find some truly unique gifts.
Østerbro's Hyggeligste Flea Market
Dec 9-10, 10:00-16:00; Remisen Blegdamsvej 132, Cph Ø; 10kr
If you're looking for gently used Christmas gifts, the Osterbro's Hyggeligste Flea Market is your perfect destination. In 2014 the market was featured in the magazine Antik and Auktion as one of Copenhagen's best markets. Here you'll find the classic Danish hygge atmosphere while shopping for gifts. Food and drinks will also be available to buy.
Swedish Christmas Market
Nov 24, 15:00-18:00, Nov 25-26, 11:00-17:00; Gustafskyrkan, Folke Bernadottes Allé 4, Cph Ø
Enjoy Swedish Christmas delicacies such as lutfisk (preserved cod), mulled wine and gingerbread cookies at a market inspired by Astrid Lindgren, the author of the Pippi Longstocking books, where all those in attendance will be dressed in traditional folk attire. Warm yourself with Janssons frestelse, a Swedish fish casserole, while your kids must try julmust, a Christmas drink described as a cross between cola and root beer.
Design Xmas Market
Dec 1-3, Fri 12:00-19:00, Sat & Sun 10:00-17:00; Victoria Ceramic Studio, Vesterbrogade 24B, Cph V; free adm
Normally the home of six potters, Viktoria Ceramic Studio will for the seventh year in a row transform into a shopping wonderland where you can purchase goodies such as Copenhagen's finest ceramics, jewellery, leather, knitwear and more unique items. Source sample products that you will not be able to find anywhere else, including work by designers such as Anders Bockelie, Christina Skov Christensen and Tina Marie of CPH Handmade. As well as shopping, you can visit the cosy café and enjoy some fresh pastries, hot drinks and mulled wine.
Rita Blå's Xmas Design Flea Market
Dec 2-3, 12:00-17:00; Kulturhuset Indre By, Charlotte Ammundsens Plads 3, Cph K; free adm
This market specialises in crafts, design and vintage clothing. Visiting the stalls is like attending a party as the music never stops. This Christmas edition includes children's workshops, tasty Christmas food and musical performances. Bargains and Christmas trees.
Flids Xmas Market
Dec 2-3, 11:00-17:00; Nørrebrohallen, Cph N; over-12s: 30kr, under-12s: free adm: flidmarked.com
Entrepreneurs, craftsmen and other exhibitors will be selling their one-off knick-knacks. Prints, jewellery and ceramics will be heavily feature. Cards and Mobilepay accepted! Check the website for a list of the 100-odd stall holders.
BaghusDK Xmas Market
Nov 25-26 & Dec 2-3,10:00-18:00; Vesterbrogade 107B, Cph V; free adm
The Danish furniture, ceramics and jewellery designers at BaghusDK sell prototypes, discontinued goods, samples and exhibition products – all of their own creation. Look out for the discounts in their big Christmas sale and check out their range on the Facebook page.
Christmas at Kødbyen
Dec 9-10, 10:00-18:00; Kødbyen, Flæsketorvet, Cph V; koedbyensmadogmarked.dk
An event at Kødbyen always ensures a down-to-earth yet edgy urban atmosphere. Enjoy a weekend in the food district filled with churros and flæskestegs sandwiches as well as many Christmas dishes and treats. There will also be lots of live music to enjoy while sipping your hot cocoa.
The Royal Christmas Market at Kronborg Castle
Nov 28-29 & Dec 5-6, open 10:00-17:00; Kronborg Castle, Helsingør; 50kr; under-4s free adm; kongeligeslotte.dk
The famous Hamlet Castle will once again be holding its annual Christmas market. Treat yourself like royalty and enjoy all of the magical Christmas festivities, such as horse-drawn carriage rides and watching the Fairy Tale Theatre in the great ballroom. Take the opportunity to find special, handmade Christmas products from the 100 stalls at the market and participate in gift-making workshops. Guided tours will also be provided for those who want to learn more about Christmas at Kronborg.
Kongens Nytorv Christmas Market
Nov 17-Dec 22; Kongens Nytorv, Cph K
After what seems like decades of construction work, the Kongens Nytorv Christmas market is back. It's mostly old hat, but you can't beat the backdrop of the glittering lights adorning the fronts of Hotel D'Angleterre and Magasin.
Christiania Christmas Market
Dec 9-20, 12:00-20:00; The Grey Hall, Refshalevej 2, Cph K
Freetown Christiania hosts an unconventional Yuletide fair around the Christmas holiday. Wonder through the hustle and bustle to find unique, handcrafted gifts such as jewellery, mirrors, wrought iron candle holders and more. Freetown Christiania is a unique place to visit at all times of the year, but visit this December to ensure a different holiday experience.
Carlsberg's Christmas Market
Dec 1-3 & 8-10; Visit Carlsberg, Gamle Carlsberg Vej 11, Cph V 
If you're looking for Christmas food and more importantly the drinks, then go to Visit Carlsberg's Christmas market. Here you'll find a variety of holiday beers and special beer tastings beside stands with different chocolates, meats and more. Come and enjoy a Carlsberg Christmas and let the magic shine all over the brewery.