News
Nervously checking the weather forecast ahead of January 1 plunge into the Lakes
---
This article is more than 6 years old.
David Zephernick from Radikale will fulfil a pre-election promises to jump into Skt Jørgens Sø on the first day of 2018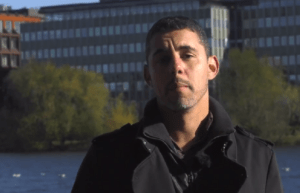 There was Rodney Marsh of course. The football pundit said he'd have his hair shaved off if Bradford City managed to avoid relegation from the English Premier League in 2000. And Gary Lineker, who said he'd present 'Match of the Day' in his underpants if Leicester City won the title.
And former footballers aren't the only ones, as politicians are prone to making crazy promises, from 2012 presidential candidate Newt Gingrich pledging to establish a permanent colony on the Moon by 2020, to musician Jello Biafra's promise to make businessmen wear clown suits as part of his 1979 bid to become mayor of San Francisco.
And there will doubtless be plenty of clowning about when Radikale candidate David Munis Zephernick, who in the local elections on November 22, won a seat on the council of Frederiksberg Municipality, fulfils his campaign promise.
Jumping in on January 1
The brave politician is going to jump into Skt Jørgens Sø in central Copenhagen at 2 pm on January 1 to test "how far we are from realising my visionary plans for the lake" (see video below), he confirmed to CPH POST.
"That is going to be a rather cold experience, I am afraid, but I will now have to start my first working day at City Hall by keeping that promise! It seemed such a good idea at the time!"
So if you're looking forward to seeing the politician honour his promise, gather at the lakeside in the proximity of the Tycho Brahe Planetarium on Gammel Kongvej at around 13:45. The event is only scheduled to last two minutes!
With current forecasts predicting the chilliest Danish winter for five years, he might have to smash through the ice first!