InOut
On Screens: Erasing Kevin – even if it costs all the money in the world
---
This article is more than 5 years old.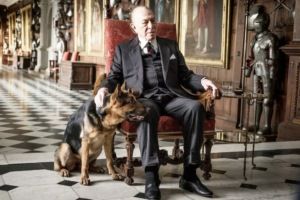 Did you know Jean-Claude van Damme was cast to play the alien in Predator, but was replaced during filming? Some of his scenes survive, even though the creature he was playing was invisible. So he's there in a not there kind of way.
He's not the only one to depart a movie midway through the shoot. The most famous example is probably Eric Stoltz as Marty McFly in Back to the Future, although three other leads – Samantha Morton (Her), Harvey Keitel (Apocalypse Now) and Nicole Kidman (Panic Room) – run him close.
And now you can add Kevin Spacey to that list, whose post-production replacement by Christopher Plummer as Jean Paul Getty in All the Money in the World (73 on Metacritic; released on Feb 1), a thrilling film about the kidnapping of the oil billionaire's grandson in 1973, annoyingly means Ridley Scott will be releasing yet another director's cut.
The winner is Tenko
While many are questioning a switch that will spare Hollywood the embarrassment of Spacey picking up award nominations, it's worth noting that Plummer at 88 is much closer in age to the 80-year-old Getty. We can only hope they don't take the same approach to music – Roger Daltry's vocals on their own just wouldn't be the same.
Given Hollywood's tendency to make up for its crimes – Crash won on the race card, as did Moonlight – it's a shame a film with an all-female cast isn't in contention at the Oscars. Steel Magnolias or Thelma and Louise would romp home – hell, even Mystic Pizza would win.
Beauty plays the beast
Not sure I, Tonya (77; Jan 25) fits that agenda though, although it sure fits the category of 'you couldn't make this shit up'. Ice skater Tonya Harding pays a heavy to break a rival's leg so she can improve her finishing position from eighth to seventh at the Olympics. And then she avoids jail-time and takes up boxing.
Margot Robbie is winning plaudits for her performance, but a little like Charlize Theron in Monster, her casting (she co-produced as well …) underlines how you need to be über-beautiful to grab a leading role, even if it is as a plain-looking hick whose inner-ugliness knows no bounds.
It's certainly not like Denmark where the leading actresses, Trine Dyrholm and Sofie Gråbøl for example, are so ordinary looking.
Gong central
Timothee Chalamet wouldn't have been your first choice to play the lead in Call me by your name (77; Feb 1), a romantic LGBT film written by James Ivory, who is still going strong at the age of 89, three years after the death of his partner (in both ways), Ismail Merchant.
Sorry, not because of his looks, but because he's not Italian! But that's Oscar-bait for you. Why cast a native actor when you can challenge an American and give them an award agenda. Chalamet, who is also under consideration for Lady Bird (out April 26), faces stiff opposition from Gary Oldman for his portrayal of Winston Churchill during World War II in Darkest Hour (77; Jan 25). But is he any better than Brendan Gleeson in the TV movie Into the Storm? They've added a zero to the budget and suddenly it's Oscar-worthy.
Two other films with strong Oscar credentials, which all came out late in US last year (not in a Kevin Spacey kind of way), are also making their debut.
Given his dedication, Daniel Day-Lewis no doubt trained as a couturier to take on his role in Phantom Thread (91; Feb 15), a darkly romantic film by Paul Thomas Anderson (Boogie Nights, Magnolia) set in the fashion world in 1950s London.
While James Franco (on a #MeToo precipice right now) has been warming up for his role as the world's worst film-maker in The Disaster Artist (77; Feb 1) his whole career. Franco plays Tommy Wiseau, the Polish creator of The Room, a film regularly screened at Husets Bio for fans of bad films, who should check out some of Franco's.
50 for the creator
Talking of complete tripe, Fifty Shades Freed (Not Released Worldwide; Feb 8) will complete the least needed trio since The Three Amigos, and the franchise flatulence continues with Maze Runner: The Death Cure (54; Jan 25).
We've got 9/11 to blame for 12 Strong (58; Feb 8) by debutant Danish director Nicolai Fuglsig, but the reviewers have been pretty kind, and the same is true of Pixar film Coco (81; Feb 8) – check kino.dk for English-language screening details.
Finally, Marvel Universe film Black Panther (NRW; Feb 15) is in safe hands with the talented Ryan Coogler, the director of Creed and Fruitvale Station. It might sound like a questionable title – you wouldn't call a comic book 'Umkhonto we Sizwe' (spear of the nation), would you? – but San Lee and Jack Kerby's creation of the superhero predates the October 1966 founding of the Black Panther Party … by three months!
Nordic knows the score
As it should be, given most of us are staying indoors for the foreseeable future, this coming month is a busy one for HBO Nordic.
Fans of Six Feet Under will be delighted to learn that Alan Ball's new series, Here and Now (out Feb 12), sees him return to a modern America untainted by vampires (True Blood), which is seen through the eyes of a multi-racial family that looks suspiciously similar to Angelina Jolie's.
Not so sure we will be so quick to recommend its other new series, although AP Bio (Feb 2), a comedy about a teacher who enlists his students to help him get revenge on the people who have wronged him, does look like fun.
Britannia (just out) starring Danish actor Nikolaj Lie Kaas, which is set in first century AD Britain during the Roman invasion, looks historically implausible. While Canadian miniseries The Disappearance (Feb1) is yet another drama about a missing child.
Ricky on the rise
Also coming out (not in a Kevin Spacey fashion, because this is premeditated scheduling) in Denmark are S4 of Halt & Catch Fire (HBO Nordic; Feb 13), the British miniseries National Treasure (SVT1; Jan 29 & Feb 5, 21:45) starring Robbie Coltrane as a celebrity accused of sexual misconduct, and S7 of Homeland – on both DR and SVT in the week beginning February 12.
While over in the States, new releases worth checking out include The Assassination of Gianni Versace: American Crime Story (74 on Metacritic), Counterpart (75), Black Lightning (79), Corporate (77) and Black Mirror wannabe Philip K Dick's Electric Dreams (68).
Versace's lover is played by singer Ricky Martin who came out in 2010 despite warnings it might damage his career – and it's hardly been an audacious decade for him. But now his star is rising, unlike Kevin Spacey who just a year ago could have beaten off anyone he liked to land a part. Hollywood sure is changing.