Local
CPH Zoo tragedy: New male tiger kills female
---
This article is more than 5 years old.
Guest alerted staff to fatal battle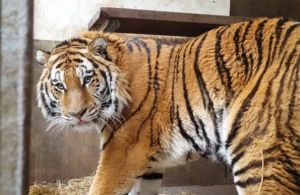 When Copenhagen Zoo received its new male tiger three weeks ago from Moscow, it was supposed to signal a new dawn for the zoo's tiger population.
But those dreams hang by a thread now following the news that the male killed one of the zoo's incumbent two females yesterday.
"The tigers have been through a normal introductory process, where they first meet through bars and then in the enclosure a couple of weeks ago," said Lars Holse, the divisional head at CPH Zoo.
"There was no sign of particularly aggressive behaviour and we unfortunately don't know what caused the conflict."
READ MORE: Danish zoo in mourning following death of rare baby rhino
Back to square one
The drama unfolded as a guest alerted the zoo that the tigers had been in a fight, but when the first zoo employee arrived at the scene, the female tiger was already dead.
The male sustained a few scratches on its paws, but no serious injuries.
Now, the male will be separated from the second female tiger, but the plan remains for them to be reintroduced again sometime in the future.
"All zoos experience their predators battling it out, but fatal outcomes are fortunately very rare. The male tiger acts on its instincts, and that led to a fatal result this time," said Holse.