News
HC Andersen's childhood home in Denmark not a protected site
---
This article is more than 5 years old.
One of the country's most iconic buildings is in fact just another house on the street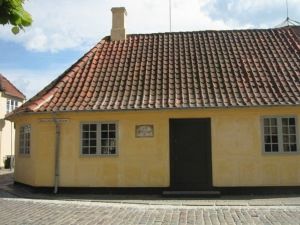 HC Andersen's childhood home in Odense does not enjoy protected status under heritage laws
Although the house has been maintained as a museum for many years, councillor Jane Jegind was shocked to discover that the home is not a heritage site.
"I was surprised," she told Ekstra Bladet. "I first thought it might be a mistake and I had read it wrong."
READ MORE: New Hans Christian Andersen museum green-lighted in Odense
Jegind said she was searching for the status of another building when she discovered that the Andersen home was not protected under the law. She double-checked several lists to confirm that the house was not covered.
Good spot for a KFC?
HC Andersen moved into the house with his parents as a two-year-old in 1807. He lived there for 12 years before moving to Copenhagen.
"It is not only a heritage site for Denmark, but for the whole world," she said.
Jegind said that even though the building has been a museum for nearly 90 years, it is still important to give it legal protection.
"There are no challenges pending, but who's to say what may happen in 20 or 50 years?"
What you don't know …
The future protection of HC Andersen's childhood home will be considered by the municipality City and Cultural Committee tomorrow.
Jegind said that she has no doubt that the committee will approve protecting the property, which it probably believed was already covered.