News
Copenhagen closing in on new beach
---
This article is more than 5 years old.
Sandy dunes in Sydhavn and Valby close to being a reality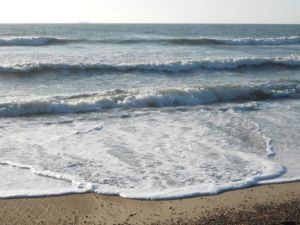 It's taken a fair few years for Copenhagen to get its ducks in a row on the proposed new beach area at Valbyparken, but it looks like the city is finally about to green light the project.
The beach, which is expected to provide a recreational area for people living in the Sydhavn and Valby districts, faces approval by the city following a 28 million kroner donation by the R98 Foundation.
"Thanks to the big donation from the R98 Foundation, we finally have an opportunity to get cracking on the project, which has long remained on the drawing board," said Ninna Hedeager Olsen, the city's deputy mayor for technical and environmental issues.
"In a few years, Valbyparken will probably not only consist of green areas, but also those of the blue variety – where people can feel some sand and water between their toes. I'm sure the coming beach will be a huge success for locals and visitors alike and become yet another attraction for the old Sydhavn."
READ MORE: Life in Copenhagen to become even more of a beach
Ready by 2021
Plans for the beach first surfaced back in 2012, but the city halted its efforts to move forward due to problems with pollution of the bathing water in the area. The pollution prompted R98 Foundation to hold off on making its donation.
But now the foundation has been assured that the water quality will be up to standard in three years and on Monday, the municipality will make a decision whether to accept the donation.
Aside from the beach, the project also includes several accompanying facilities such as rest rooms and a building with changing rooms, a mobile unit for life guards, outdoor exercise equipment, nature playgrounds, bicycle stands and a bird watching tower.
A final project proposal is expected to be presented to local politicians early next year and, pending donation and project approval, the beach should be ready for use in August 2021.
To protect the rich bird habitat in the area, construction will take place in the spring and summer months leading up to 2021.